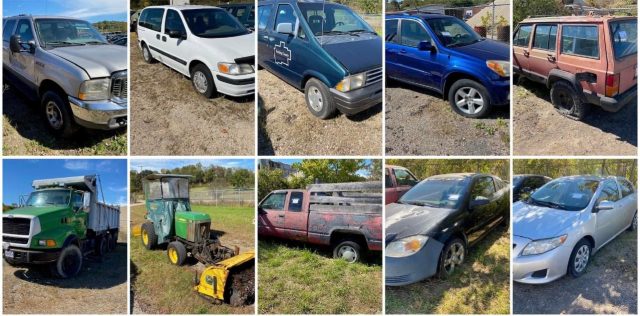 Hocking – Hocking county Sheriff is selling more than a dozen cars along with forfeited property
Attached are photos of several of the cars that will be auctioned on Saturday, October 8th at 10:00am.
In addition to these vehicles, several other forfeited property will be auctioned. This list includes, but is not limited to:- Over 10 various weed eaters/lawn trimmers- Over 20 various chainsaws- Several bikes- Various power tools (drills, sawzalls, impact drivers, lights, pole saw, etc)- Woodworking tools (plainer, chop-saws) – Various air compressors- Riding lawn mowers (John Deer and Toro)- Various household equipment – Various automotive equipment- several tool boxes, toolbags, boxes, chest- Various hand tools (socket sets, screwdrivers, pliers, spud bars, crowbars, etc)- Welding accessories- Various gas cans- Various generators- Various extension ladders- Several walnut logs
Unfortunately, due to security and safety concerns, advanced viewing of these vehicles and items are not available.