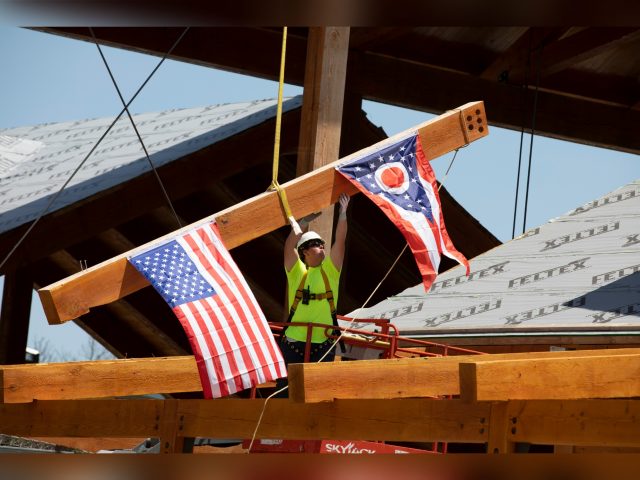 LOGAN, Ohio – The new, state-of-the-art Hocking Hills State Park Lodge is one step closer to welcoming guests. Today, Ohio Department of Natural Resources Director Mary Mertz joined construction crews, park staff, and others for installation of a ceremonial final exterior beam during an event known in the building industry as a "topping out."


"Hocking Hills is one of the crown jewels of our state park system, and we want visitors to have a top-notch lodging experience as they explore this breathtaking region," ODNR Director Mary Mertz said. "Every day brings us closer to the opening of this state-of-the-art facility, and I can't wait for the public to see the finished product."


Director Mertz and others involved in the project signed their names to the beam marking an important milestone in the lodge's construction that began July 1, 2020. In addition to offering full-service dining and conference space, the lodge features a hotel wing with 81 guest rooms, indoor and outdoor pools, and scenic outdoor spaces for friends and family to gather.

ODNR anticipates opening the nearly 74,000 square-foot lodge to the public in October of 2022. The anticipated cost of the project upon completion is $40 million. A time-lapse video documenting the progress of the project can be viewed here. To read more about the project and see other updates, visit ohiodnr.gov.

The new Hocking Hills State Park Lodge is being constructed on the same footprint as the state park's former lodge restaurant and conference center, which was destroyed by a fire in December of 2016.