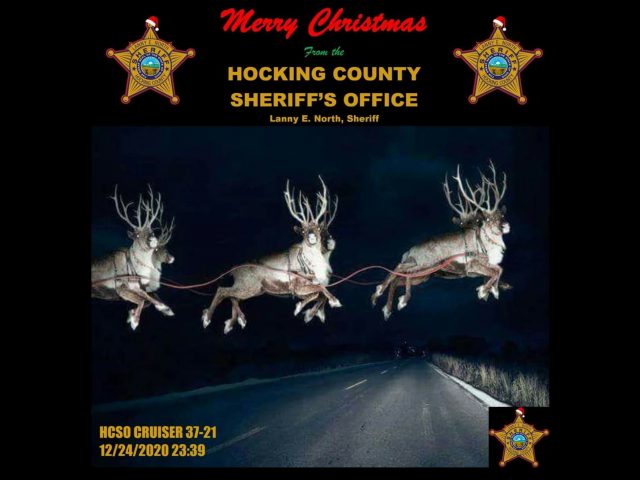 Hocking County OH- On the eve of Friday, December 25th, the Hocking County Sheriff's Office received numerous 9-1-1 calls which were received and dispatched by the Hocking County 9-1-1 Emergency Communication Center. These callers reported breaking and entering complaints throughout Hocking County.
All of the callers reported that there were no signs of forced entry to their residences, but it appeared that the suspect used the chimney to gain access to their homes. Many reported hearing a "clatter" on their roof during the intrusion.
Callers also reported that the only thing that was stolen from their residence was milk and cookies. It also appeared that the suspect had dropped gift wrapped presents near the victims' Christmas tree, however, some households reported receiving lumps of coal.
Eye witnesses describe the suspected burglar as being larger white male, with a large round belly, that shook when he laughed, like that of a bowl full of jelly. He is reported to have white hair, a white beard, rosy red cheeks, and a nose, red as a cherry.
Some witnesses stated the suspect had a "twinkle" in his eye. Suspect was last seen wearing all red clothing with a red cap and black boots carrying a large sack, full of suspected toys and/or stolen goods.
Certain victims reported that the suspect, upon fleeing the scene of the crime, would shout "Merry Christmas to all, and to all, a good night!"
While responding to one of the residences, a deputy's cruiser dash camera captured the picture below; we believe this is the vehicle that the suspect was operating.
Hocking County Sheriff's Office detectives were immediately dispatched to the various crimes scenes in an attempt to collect evidence and identify the suspect. At one of the numerous scenes, detectives recovered a list of residences they believed the suspect had, or was going to attempt to burglarize. Detectives identified two separate and distinct lists, one the suspect had labeled as "naughty" and the other "nice". The investigation into these lists is ongoing.
Anyone with information relating to these burglaries is encouraged to contact the Hocking County Sheriff's Office without delay! Deputies remain on patrol and vigilant during the holidays to assure the safety and protection of the residents of Hocking County.
Hocking County Sheriff Lanny E. North and the men and women of the Hocking County Sheriff's Office would like to wish each and everyone a Merry Christmas and a safe holiday season.