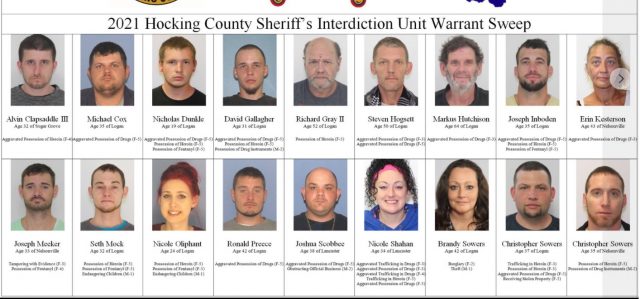 HOCKING – On Wednesday, July 14th, the Hocking County Sheriff's Office, the Sheriff's Interdiction Unit and the U.S. 23 Major Crimes Task Force with assistance from the United States Marshal Service's Southern Ohio Fugitive Apprehension Strike Team (SOFAST) executed several arrest warrants for narcotics related offenses.
The arrest warrants were the result of narcotics investigations conducted by Hocking County Sheriff's Interdiction Unit Detectives who are tasked with working narcotics cases within Hocking County.
Hocking County Sheriff Lanny E. North stated: "For the second time this year, we have conducted a warrant roundup for narcotics cases in an effort to inform the dealers, users and our community that this type of activity will not be tolerated."
"I would like to thank Hocking County Prosecuting Attorney Ryan Black for being such a strong ally in echoing this message by him and his staff doing their part in the court room."
"I would also like to thank United States Marshal Peter Tobin and the members of SOFAST for assisting in the operation."
Sheriff North closed by saying:
Less than two months ago, I issued a press release with names, photos and charges of individuals who were dealing narcotics in Hocking County. I gave others who were in a similar line of work a warning, that if they didn't stop, then they would be next.
"It would appear that some of them didn't take the warning seriously and now their name, photo and charges are on our list."
"If you need help dealing with your addiction, we have dedicated members of Project HOPE and the resources to get you that help; all you need to do is ask.
"If you simply want to continue to sell drugs, I guess we will see if you make it on the next list that we put out."
As always, the Hocking County Sheriff's Office depends on the cooperation and partnership with the community to effectively combat crime. We continue to urge residents to contact us with tips regarding suspected drug dealers. Tips can be sent, anonymously, via phone call or text message to 740-380-4276.