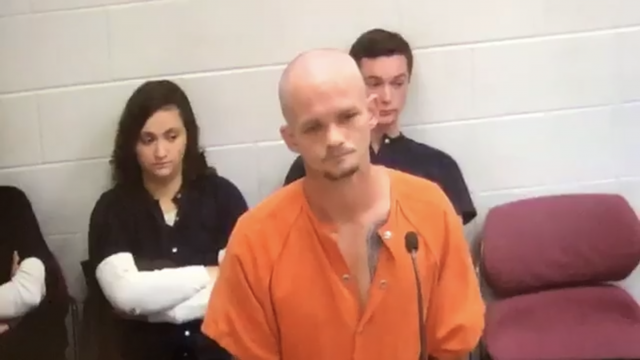 CIRCLEVILLE – According to documents Gregory A. Hardman says he murdered the wrong person.
---
More stories relating to the murder of Raymond Dixon:
---
A document of facts from Circleville Police department says that Hardman has admitted to beating the victim Raymond Dixon with a baseball bat in his home located at 205 West Main street. Hardman said that it was a mistaken identity though, that he didn't plan to attack Dixon but to attack and kill another person he knew Richard Greeno. Greeno who lives close to the victim was also questioned and released during the investigation last night.
During arraignment today Hardman was placed on a 1,000,000 bond, and judge Dumm said that he could face the death penalty for his crimes. Hardman is currently being housed at the Pickaway County Jail on the charge of Aggravated Murder. Dixon was handicapped and was wheelchair bound.
According to state Fire Marshalls Hardman may face charges of Arson also.
A preliminary hearing will be heard at Oct 3, 2019 at 3 pm.

On September 23, 2019 the Circleville Police Department responded with The Circleville Fire Department on a complaint of the smell of smoke and a possible fire at 205 West Main Street Apartment #3.
Upon arrival, emergency responders found a male who had been assaulted and was on fire inside the apartment. Circleville Fire transported the victim to Berger Ohio Health Hospital where he was then life-flighted to the Ohio State University Medical Center. The victim ultimately succumbed to his injuries and was pronounced deceased.
During the investigation, Officers gained information that led to Gregory A. Hardman as a potential suspect. Mr. Hardman was taken to the Circleville Police Department where he was questioned in reference to the crimes. Enough evidence and statements were obtained to charge Mr. Hardman.
Officers placed Mr. Hardman under arrest for Aggravated Murder, a Felony of the 1st degree. The Ohio State Fire Marshal Office will have several Felony Arson charges as well. The Circleville Police Department worked hand in hand with the Circleville Fire Department, The State Fire Marshal's Office, Ohio Bureau of Criminal Identification and Investigation from the Ohio Attorney General's office and the Fairfield – Athens Major Crimes Unit.