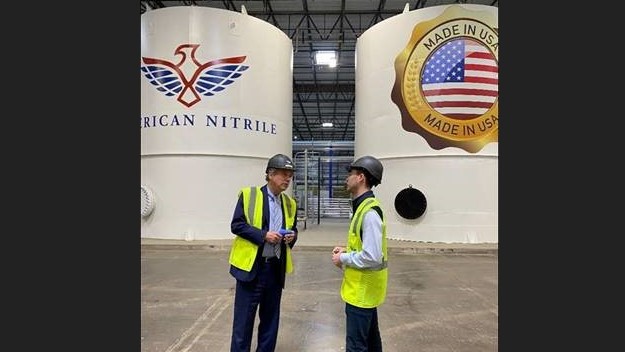 GROVE CITY, OH – Today, U.S. Sen. Sherrod Brown (D-OH) toured the new American Nitrile factory Grove City, and discussed his efforts to bring production of critical goods back to the U.S.
American Nitrileis building a 527,000 square foot facility to make non-latex gloves for health care, government, and industry use. The company plans to create about 400 jobs and produce nearly 4 billion nitrile gloves each year to better compete with the nitrile glove industry that is primarily in Southeast Asia.
"At the beginning of the pandemic, the Chinese government hoarded personal protective equipment. It led to global shortages, and left American health care workers and patients at the whim of the Chinese Communist Party's export controls, during a global health crisis. We have to bring crucial supply chains back home," said Brown. "We need to build up our manufacturing capacity of these critical products, at facilities like American Nitrile."
Brown is working to ensure American-made personal protective equipment (PPE) is more competitive with foreign markets by urging tariffs on PPE from China and introducing the Supply Chain Resiliency Actto help alleviate current supply chain bottlenecks and invest in American companies. In October, he wrote to the administration urging them to reimpose tariffs on Chinese-produced PPE, to support American manufacturers of critical goods.
The bipartisan infrastructure law also includes requirements that all government contracts for PPE be for products manufactured in America. The legislation also requires contracts for domestically-made PPE to last for at least two years, so that manufacturers like American Nitrile can plan and invest for the future.
"We appreciate Senator Brown's efforts to protect and expand domestic manufacturing and strengthen supply chains — especially for critical PPE," said Block. "This is a long-term investment in the community and the country, and we're excited to bring good, high-paying manufacturing jobs back to Ohio."