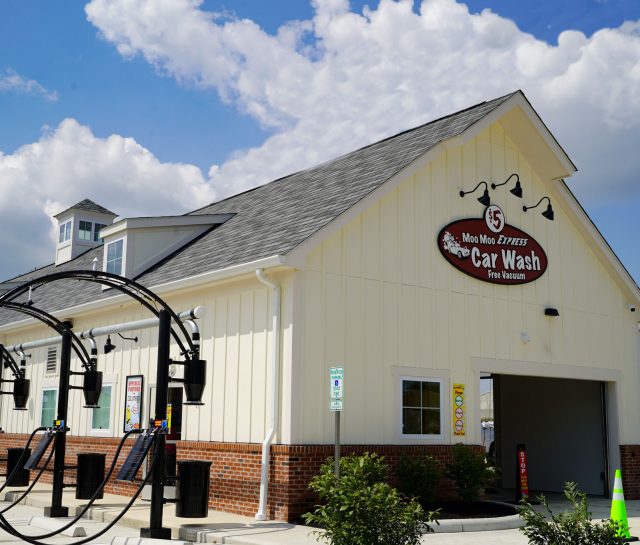 Grove City – Moo Moo Express to Celebrate Grand Opening of Second Grove City Location with free Crème De La Crème VIP car washes.
Moo Moo Car wash is located at 2615 London Groveport Rd. just North of the Pickaway county line. For residents in Orient and Commerical point, it offers a new way to wash your car in the area, for Grove City it adds an additional Moo Moo car wash on the other end of town.
The car wash company already has a location on Stringtown road, but lots of Grovetuckians complain that it's always busy and has lines out to the road. This will allow members to use either location being only about 10 minutes apart.
The company purchased the property in 2020 but delayed the construction until this spring, with plans to open mid-summer. That goal was hit as it is officially open on 7/22/22
Moo Moo Express Car Wash is celebrating its 24 th Central Ohio Grand Opening with 10 days of free car washes.
From July 29 – August 7, 2022 customers will receive a FREE signature Crème De La Crème VIP car wash ($18 value) when they bring a monetary donation to benefit The Marcus Project.
Marcus represents the child that lots of families are wishing they could adopt, but they're not able to afford it. Or the Marcus that needs a warm coat during the winter. Or the Marcus with an empty belly. A non-profit committed to providing resources for these many needs in our community.
100% of all donations will help The Marcus Project continue their mission of assisting children and families in need by creating opportunities, sourcing necessities, and building a feeling of significance.
Other Grove City South Moo Grand Opening incentives include the following:
 $50 Moo Moo Express Gift Cards will be available for purchase at the new Grove City South Moo for only $25 from July 29 – August 7, 2022 with ALL proceeds being
donated back to The Marcus Project.
 Customers who sign up for a Crème De La Crème VIP Unlimited Wash Club Membership at the new Grove City South Moo will receive their first month for only 99¢ (regularly $32.99/month).