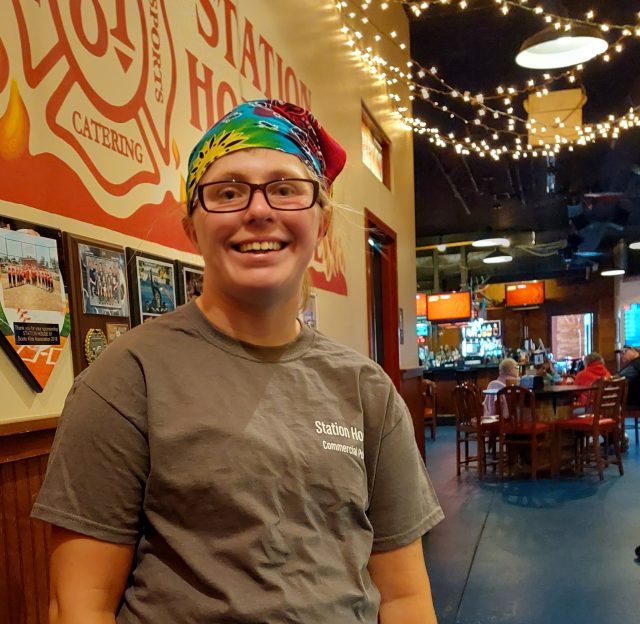 Washing dishes at Station House 81 may be Kiera Brooks' job, but it's way more than that due to her coworkers.
"They're my friends," she said. "I like this job at Station House 81 in Commercial Point."

Making those connections is a key part of what makes community employment so important not just for individuals with disabilities, but everyone, said Goodwill Missions Coordinator Cana Horner.
"Research shows social relationships impact our physical health, mental health, and even our mortality risk. The more we connect with others, the better we feel about ourselves and our lives," Cana said.
"Kiera has done amazing at Station House 81 according to reports from the owner John Brettell," said Goodwill Employment Specialist Elonaray Perkins. "She fits in well, interacts well, and has a great time at work. The staff are very aware of Kiera's disabilities, but they support her, include her and treat her no differently. The atmosphere is amazing in that kitchen. This truly was the best placement for her."
Kiera's path to Station House 81 began at Goodwill in January 2021 and its Project Connect paid transitional work program which was being piloted in Pickaway County at the time. Kiera worked in the Circleville Goodwill
store along with other participants and a job coach on five skill areas: customer service, stocking, production, janitorial, and cash register.
"Kiera can be shy, but I saw her open up and interact more each day," Elonaray said. "She loved talking with others and was willing to learn any task."

Individuals in Project Connect may choose to work up to five hours a day earning minimum wage for up to five days each week. While they may remain in the program for up to two years, many individuals complete
sooner and move onto the second phase, seeking community employment with the assistance of a Goodwill employment specialist.
"The most beneficial thing that comes from Project Connect is that each of these individuals gets a chance to learn a wide variety of tasks and skills that could help them facilitate a community-based position in the future," Elonaray said. "This is an opportunity for them that they otherwise may not get."
Since the program started, 58 people across the Goodwill of South Central Ohio region have entered the program and half have moved onto the job search phase. Of those who have completed, 55% have been successfully placed in community jobs and some are still working with Elonaray who supervises Project Connect.
"I have been blessed to see some of our participants surprise themselves, their guardians, and their team with how much they open up and can do," Elonaray said.

"Some really just need a little push and a lot of encouragement, but they feel a great sense of pride when they do a task they may have felt they couldn't before. These are some of my favorite things about supervising
Project Connect."
As interest in the program has grown, more efforts are underway to seek additional business partners. The newest partnership is in Chillicothe where in late November the team began working at the Valero gas station
across from the center. The partnership has the potential to grow to include other Par Mar gas stations in the region including in Athens and Waverly.
The center in Washington Court House has the most established Project Connect partnerships which allows them to work at a different location each day of the week. Currently they work at Old Navy, Rose Avenue Food
Pantry, Life Pregnancy Center, Fayette County Humane Society, and Washington Court House Nazarene Church.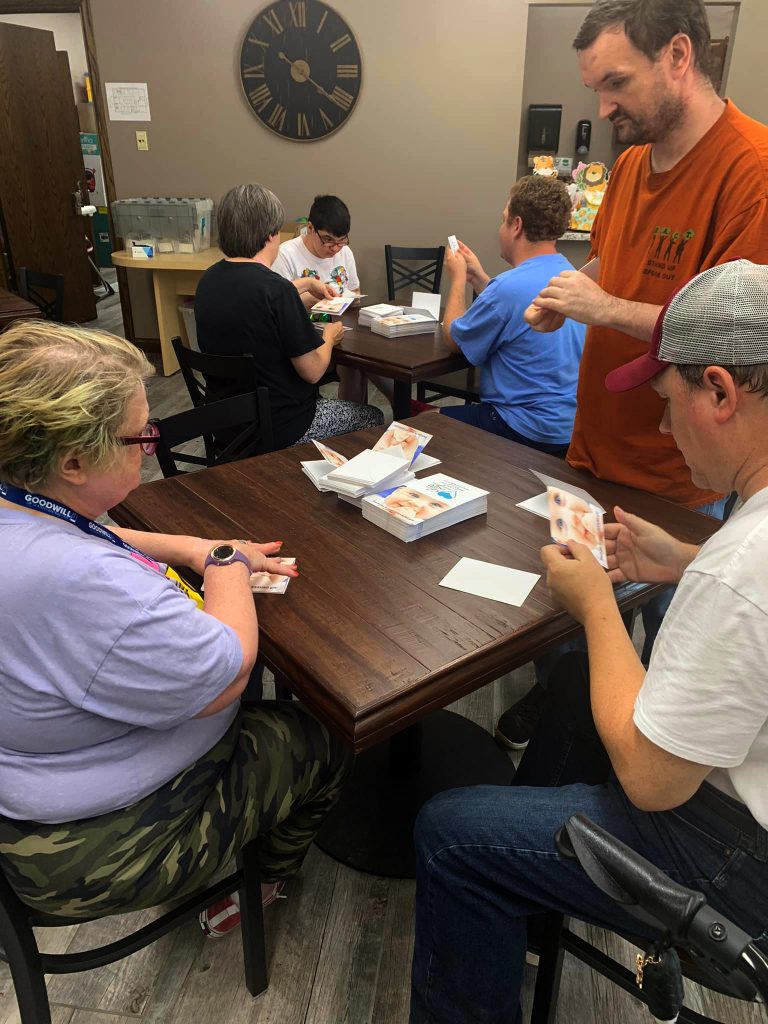 "The number one thing I enjoy about Project Connect is the fact that we are able to get out in the community and work at different places," said Tex Shadley, who oversees the Project Connect team in Washington Court House as part of his job as manager of the Fayette Goodwill Services Center.
"Another thing I really enjoy is the fact the people we work with, employees, managers, whatever the case may be, these folks are so kind and pleasant to be around. They have mentioned on several occasions how much they enjoy my individuals coming and working with them. They love how great they work, but most of all, they love my individuals and vice versa."
Aside from the community connections they are making with others, working outside the Goodwill store also provides the team the opportunity to learn more about other kinds of work and how each business functions,
Tex said. At the food pantry, the team helps load food and toiletries into boxes which are given to folks in Fayette County who need assistance. Sometimes, they also get to load the cars, giving them a chance to meet the people being helped.
At Life Pregnancy Center, they help with different projects which help new parents and their babies get a head start on life together as a family. Meanwhile, they help clean at the church and at Old Navy, they do a variety
of things from unloading shipments of new goods to helping straighten items on the salesfloor.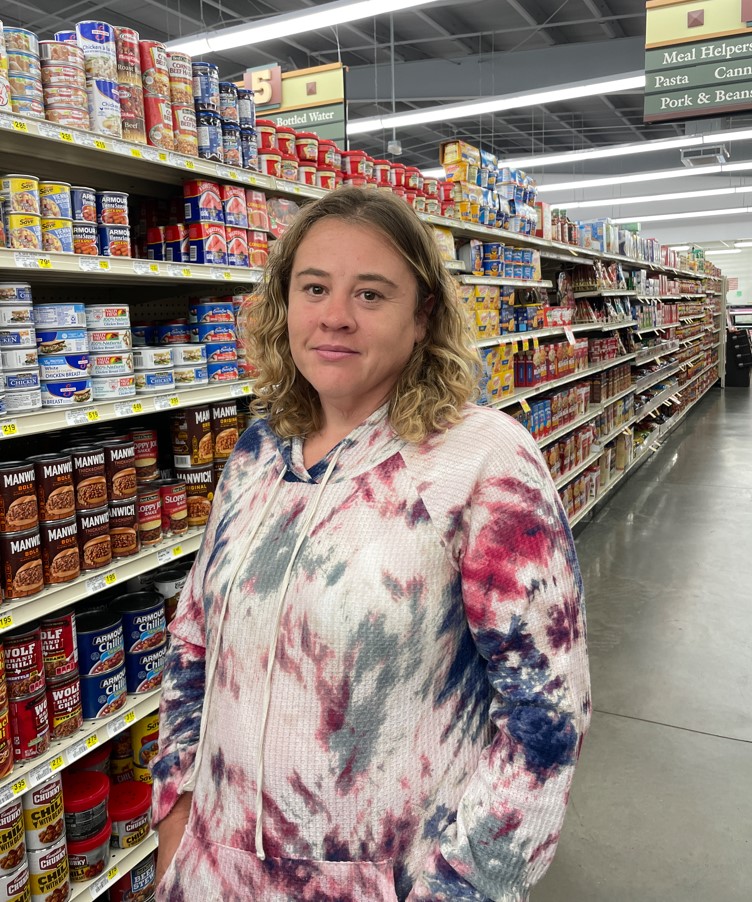 "I like Project Connect very much," said Robin Downard, of Washington Court House. "I like that I can help people and make my own money."
In McArthur, Janessa Meadows works at Campbell's Market for Project Connect which she really enjoys.
"I like Project Connect because I get to work and learn different skills. And since I work in a grocery store, I learn about all different types of foods," Janessa said. As individuals' skills grow, they can choose to follow the same path as Kiera by seeking a job in the community.
In Washington Court House, Michelle Morrison hopes to one day do custodial work or laundry at a nursing home while Kyler Thornburg and Chuck Stackhouse would both like to work for a restaurant. Chuck has his eye on Roosters or Champions Grill while Kyler is interested in working at Streetside 62 or The Willow Restaurant.
Anyone interested in learning more about participating in Project Connect can contact Elonaray Perkins at 740-702-4000 Ext. 194 and talk to their Social Services Administrator.

Since 1959, Goodwill of South Central Ohio has been partnering with individuals with disabilities and challenges to help them lead the lives they envision across our eight-county region. As of January, Goodwill of South Central Ohio was serving 232 people across its region.

Goodwill provides services in partnerships with county developmental disability boards in its eight counties, the Ohio Department of Developmental Disabilities, and Opportunities for Ohioans with Disabilities