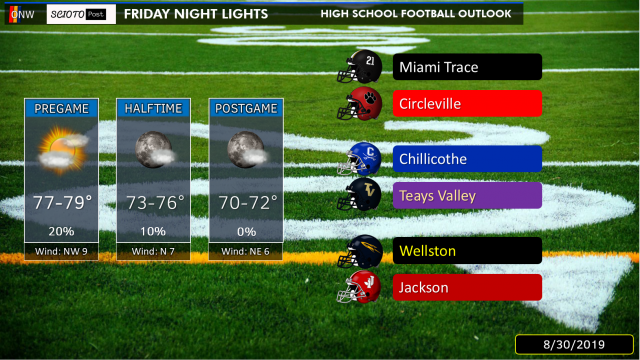 Forecaster: Nick Dunn
Good Thursday Evening! I will pick 3 random games each week across the Scioto Valley and give you the bets forecast so you know how to prepare!
Let's take a look at Week 1 of High School Football across the region! The weather right now looks excellent if you have plans to attend any games. There is a very small chance of a shower mainly before the game, but it is a very low and isolated chance. I would not even worry about packing lots of rain gear as the chance is 20% at best!
Temperatures will start in the upper 70's to around 80 across the area, and then we will fall into the lower 70's by the end of the game. Winds will not affect the kicking game too much at all.
Good luck to all of the area schools in their opening week!