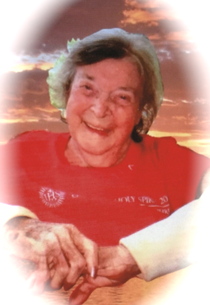 Frances Marie (Hall) Hunter
Frances Marie (Hall) Hunter, 100, of Whisler, passed away peacefully on December 23, 2017 at Logan Elm Nursing Home. She was born on July 22, 1917, in Whisler, the daughter of the late George and Myrtle (Lutz) Hall. On November 10, 1934, she was united in marriage with her loving husband, Fred Hunter, who predeceased her in 1972.
Frances is survived by her niece and nephews, Eugene Jones (Lori Woodruff), Mike Rohr (Sherrie Eberle), John (Roesetta) Hall, and Vera Hobbs; great niece and nephew, Mick (Stephanie) Rohr and Rheanna (Joe) Romeo; and grandchildren, Colin Gaines, Christian Rohr, William Rohr, and "Baby" Rohr.
In addition to her parents and husband, Frances was preceded in death by her four sisters, Marjorie Jones, Mildred Ellison, Mona Hobbs, and Ruth Thomas; two brothers, Gerald Hall and Carl Hall; special nieces, Vickie Green and Connie Rohr; grandchild, Allee Romeo; and special nephew, Donald Hobbs.
Frances was a longtime member of the Whisler Presbyterian Church. In addition, Fred and Frances were the proud owners of Hunter's Grocery in Whisler for 25 years.
Funeral services will be held on Thursday, December 28 at 1:00 p.m. at the HILL FUNERAL HOME, Kingston. Burial will follow in Prairie View Cemetery. Friends may call on Thursday from 11:00 a.m. until the time of the service at Hill's. Condolences can be made on Frances' online guest registry at www.hillfhkingston.com.