PICKAWAY – Free tree recycling is being offered from December 26 to January 5th.  The free drop off is located on 1660 Island Road at the Pickaway County Engineers Garage in Circleville.  Trees must be stripped of all ornaments and Decor.  No artificial trees will be accepted.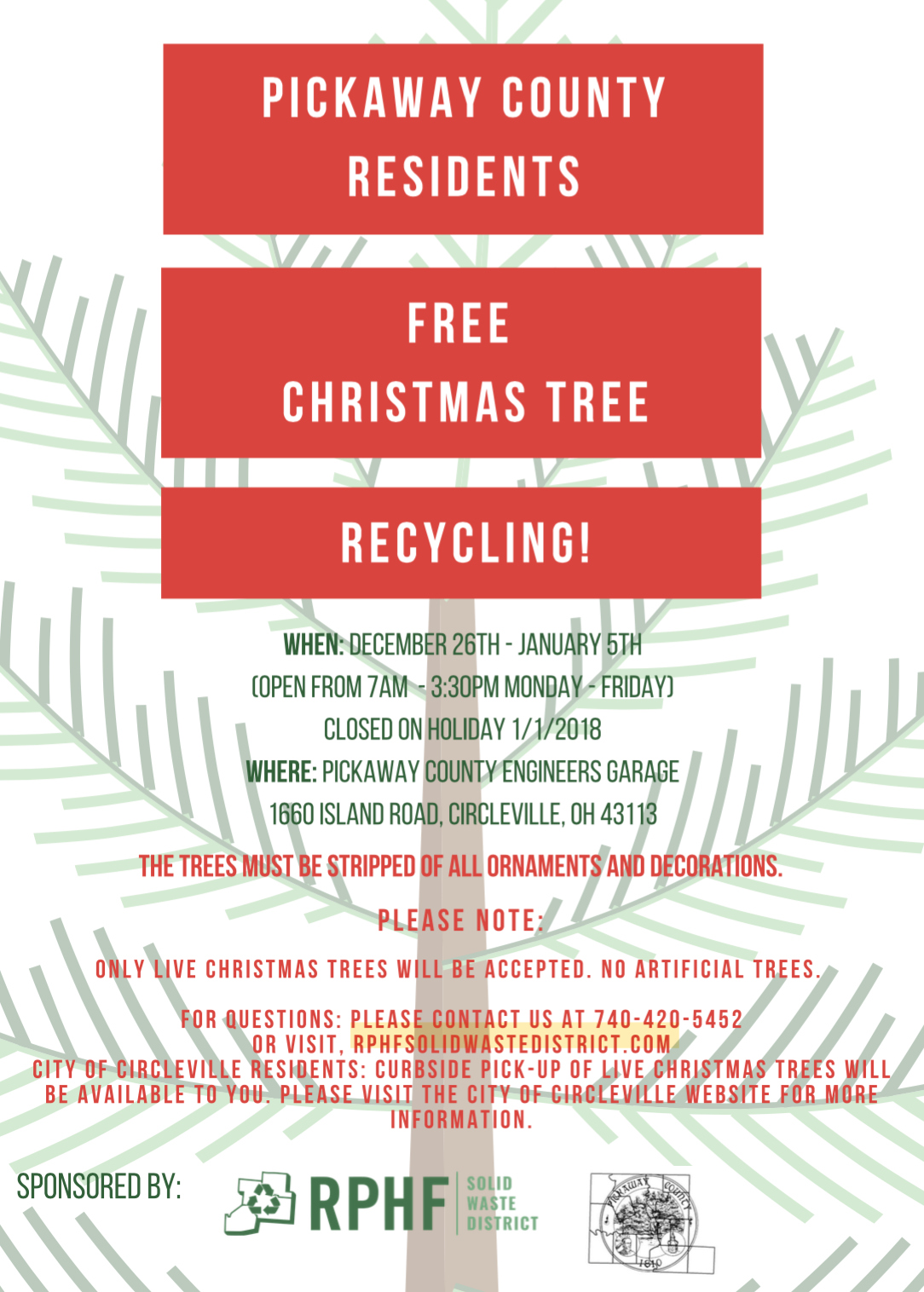 City of Circleville Residents will be offered Curbside Pickup with regular trash.
- Advertisement -
Recyclables like cardboard boxes and excess christmas paper can be recycled at these location in Pickaway County.  People are encouraged to recycle these items in these locations.
Rumpke Multi-Material Recycling Bins
Locations
Ashville – Teays Valley Middle School, 655 Circleville Ave.
Pick-up day: Monday & Thursday
Commercial Point – Township House (6752 St. Rt. 762)
Pick-up days: Monday & Thursday
Darbyville SR 316 & Water Street (Big Blue Tower)
Pick-up days: Monday & Wednesday
New Holland, 17 N. Church St. (Fire Station/Lot next to Post Office)
Pick-up day: Wednesday
Rhoads Farm Market, 1051 State Route 56, Circleville
Pick-up day: Monday & Thursday
Rumpke – 1097 US RT 22 W, Circleville
Deercreek State Park – 20635 Waterloo Rd., Mt. Sterling
Pick-up day: On call
PICCA – 722 Clinton St., Circleville
Pick-up days: Monday & Thursday

SNAP Fitness/ACE Hardware – 1186 N Court St., Circleville
Pick-up day: Monday & Thursday
Salt Creek Intermediate School – 13190 St. Rt. 56, Kingston
Pick-up day: On call
Pickaway County Service Center – 110 Island Rd. Circleville (Upper lot) Pick-up day: Monday