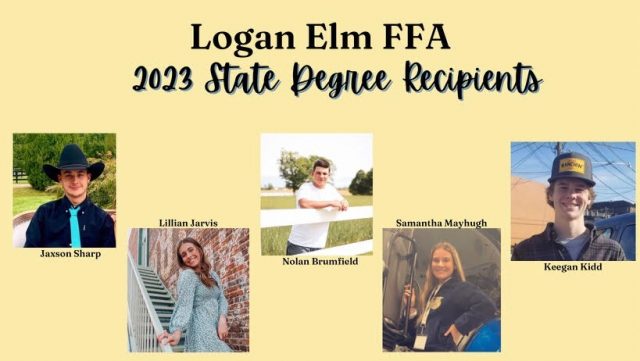 PICKAWAY – Five Logan Elm students have achieved the second highest level that can be achieved as an FFA member the State FFA Degree.
"This step in the FFA Degree system encourages students to grow and achieve personally toward establishing themselves in an agricultural career," said Logan Elm Schools.
In order to achieve this rank students must:
Have received the Chapter FFA Degree.
Have been an active FFA member for at least two years (24 months) at the time of receiving the State FFA Degree.
While in school, have completed the equivalent of at least two years (360 hours) of systematic school instruction in agricultural education at or above the ninth grade level, which includes a supervised agricultural experience program.
A student after entering agricultural education must have:

Earned and productively invested at least $1,000; or
Worked at least 300 hours in excess of scheduled class time; or
A combination thereof, in a supervised agricultural experience program.

Demonstrate leadership ability by:

Performing 10 procedures of parliamentary law.
Giving a six-minute speech on a topic relating to agriculture or FFA.
Serving as an officer, committee chairperson or participating member of a chapter committee.

Have a satisfactory scholastic record as certified by the local agricultural education instructor and the principal or superintendent.
Have participated in the planning and completion of the chapter's Program of Activities.
Have participated in at least five different FFA activities above the chapter level.
Have participated in at least 25 hours of community service, within at least two different community service activities. These hours are in addition to and cannot be duplicated as paid or unpaid supervised agricultural experience hours. The percentage of the total state membership that may receive the State FFA Degree and other requirements may be established by the state FFA association
The Ohio FFA Association bestows these awards each year at state conventions.
Logan Elm FFA is proud to announce we have 5 members Jaxson Sharp, Lillian Jarvis, Nolan Brumfield, Keegan Kid, and Samantha Mayhugh receiving this award.