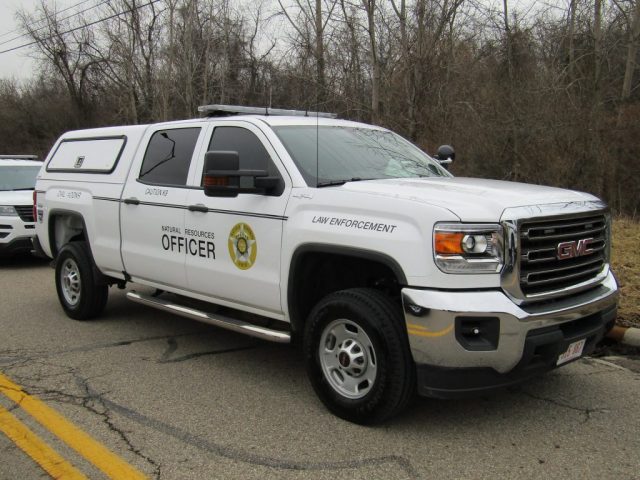 Central Ohio – Wildlife District One
During the 2022 dove hunting season, State Wildlife Officer Josh Elster, assigned to Pickaway County, contacted an individual during a controlled hunt. Officer Elster checked the individual's hunting license and HIP certification and found that the individual did not have a valid controlled hunt permit. Officer Elster determined that the individual's shotgun did not have a plug and the subject was issued a summons for hunting doves with a gun capable of holding more than three shells.
State Wildlife Officers John Coffman and Jade Heizer, assigned to Fayette and Fairfield counties, respectively, investigated a possible white-tailed deer hunting violation. The suspect had purchased a deer permit after the recorded harvest time and game-checked the deer past noon on the day after the harvest. One misdemeanor summons was issued to the hunter for failing to complete the game check process, and the antlers of the buck were seized.
Northwest Ohio – Wildlife District Two
During the 2022 white-tailed deer hunting season, State Wildlife Officer Ryan Kennedy, assigned to Hardin County, received a complaint concerning hunting without permission. A landowner had obtained trail camera photographs of a subject hunting. Officer Kennedy determined the identity of the hunter and found that the suspect was hunting without permission and did not have a valid hunting license. The subject was issued two citations for the violations and received a $350 fine in court.
Recently, State Wildlife Officer Ryan Kennedy, assigned to Hardin County, has been receiving nuisance animal calls from homeowners. The most common issues involve groundhogs burrowing under foundations and porches, raccoons gaining access to attics and chimneys, and squirrels entering roof eaves. Early spring is a good time to inspect your home and other outbuildings for any access points where wildlife may enter. Additionally, the Ohio Division of Wildlife maintains a list of licensed nuisance trappers to assist homeowners in dealing with nuisance wildlife. Visit wildohio.gov to learn more.
Northeast Ohio – Wildlife District Three
State Wildlife Investigators Kevin Good and Matt Fisher, assigned to Lake Erie, patrolled off the shores of Ashtabula County. The investigators contacted a boat with two individuals fishing and found that neither individual possessed a valid fishing license. Both were issued a summons for unlawfully fishing in Ohio waters of Lake Erie without a valid resident Ohio fishing license. They were found guilty in Ashtabula Municipal Court and each paid $155 in fines and court costs.
In April, State Wildlife Officers Zach Hillman and Evan Huegel, assigned to Cuyahoga and Ashland counties, respectively, were on patrol at Killbuck Marsh Wildlife Area when they observed a vehicle that appeared to be disabled in a parking lot. The officers spoke with the driver and discovered she had a flat tire. The officers changed her tire and got her back on the road.
Southeast Ohio – Wildlife District Four
In December 2022, State Wildlife Officers Logan Ambrister, assigned to Belmont County, and Jeff Berry, assigned to Muskingum County, received information that people were waterfowl hunting without permission at Senecaville State Fish Hatchery. Both officers responded and contacted three individuals along Wills Creek. All three suspects were issued a summons for hunting without permission. A hooded merganser harvested by one suspect was seized as evidence. Each of the suspects paid $200 in fines and court costs in Cambridge Municipal Court.
In November 2022, State Wildlife Officer Ted Witham, assigned to Jackson County, received information from a concerned citizen regarding someone spotlighting and shooting white-tailed deer from a vehicle. Officer Witham located the suspect and discovered he had spotlighted and shot at a deer from the roadway. The suspect appeared in Jackson County Municipal Court and was found guilty of both violations.
Southwest Ohio – Wildlife District Five
State Wildlife Officers Mark Schemmel, assigned to Auglaize County, and Houston Wireman, assigned to Shelby County, along with Field Supervisor Matt Hoehn responded to a report of individuals hunting wild turkeys without permission. The incident took place inside the city limits of Wapakoneta, where suspects had driven around a locked gate and parked behind the city's landfill. The officers found the suspects and issued each a summons for hunting without permission.
State Wildlife Officer Jason Keller, assigned to Warren County, as well as K-9 Officer Scout and Communications Specialist Kathy Garza-Behr recently attended a WILD School Site dedication. The Chess School in Springboro was dedicated as Ohio's 201st WILD School Site, the seventh in Warren County. WILD School Sites can involve any school property used by students, teachers, and the community as a place to learn about and benefit from wildlife and the environment. These outdoor classroom sites function within the premise that every school, regardless of size and location, can provide outdoor educational opportunities that can and should be part of any integrated education program.