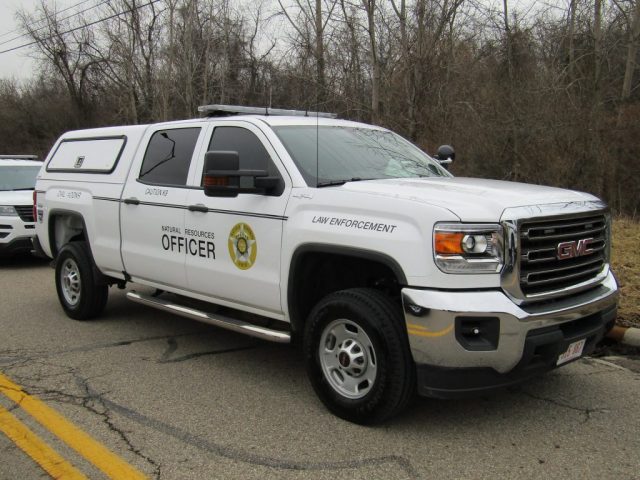 Central Ohio – Wildlife District One 
State Wildlife Officer Antoinette Freet, assigned to Licking County, was dispatched to a residence in Lancaster on a report that a white-tailed deer was caught in a fence. Upon arrival, Officer Freet found a doe with her back foot stuck in the chain-link fence. Officer Freet released the deer using bolt cutters. The doe ran off after the incident and will likely recover completely.  
Northwest Ohio – Wildlife District Two
State Wildlife Officer Craig Barr, assigned to Allen County, checked waterfowl hunters for licenses and stamps during a recent patrol. Most hunters had harvested a few ducks or geese, including a group of three who were pulling their boat from Williams Reservoir. One of the individuals was found to have a shotgun capable of holding more than three shells without a device to limit the number of shells. He was issued a summons for Lima Municipal Court where he paid a fine and court costs totaling $190 for the violation.
State Wildlife Investigator Brian Bury, assigned to the Lake Erie Unit, and State Wildlife Officer Reid Van Cleve, assigned to Ottawa County, were patrolling Lake Erie when they spotted a red fox that was trapped on an ice floe. The ice was separated from the mainland and the fox was unable to get back to shore. The officers navigated through ice, caught the fox, and secured it in a carrier. Because of the distance from shore and the cold water, the fox would likely have drowned had the officers not been in the right place at the right time. The fox was taken to a local rehabilitator as a precaution and will be released back into the wild.
Northeast Ohio – Wildlife District Three
During the 2022 white-tailed deer gun hunting season, State Wildlife Officer Scott Cartwright, assigned to Carroll County, received a complaint of a hunter stealing a trail camera and hunting without permission. Officer Cartwright and State Wildlife Officer Nick Turner, assigned to Harrison County, identified a suspect. After an investigation, the individual was charged with hunting without permission and hunting deer without a permit. The trail camera was recovered. The individual was found guilty in Carroll County Municipal Court, was sentenced to 10 days in jail, received a one-year hunting license suspension, and was ordered to pay $295 in fines and court costs.
State Wildlife Officer Zach Hillman, assigned to Cuyahoga County, received a call from a resident who discovered an owl in her basement. At the residence, Officer Hillman quickly captured a barred owl that showed no signs of injury or trauma. It was subsequently released unharmed.
Southeast Ohio – Wildlife District Four
During the 2022 white-tailed deer gun hunting season, State Wildlife Officer Jerrod Allison, assigned to Coshocton County, contacted two people who were deer hunting on Woodbury Wildlife Area. Officer Allison found that one individual was wearing blaze orange and carrying a shotgun, while the other was not wearing orange or carrying a firearm. Officer Allison learned that the individuals were sharing the gun while hunting. Both individuals were properly licensed, but Officer Allison found that the gun was loaded with five slugs. During the white-tailed deer gun hunting season, hunters cannot use more than three shells in the chamber and magazine combined, and they are required to wear a vest, coat, jacket, or coveralls that are either solid hunter orange or camouflage hunter orange. One hunter was issued a summons for hunting with a gun that had more than three slugs, and the other hunter was issued a summons for not wearing orange during a deer gun season.
Southwest Ohio – Wildlife District Five
Assistant Wildlife Management Supervisor Ronnie Adams, State Wildlife Officer Gus Kiebel, assigned to Adams County, State Wildlife Officer Matt Roberts, assigned to Highland County, Field Supervisor Dave Warner, Law Operations Manager Eric Lamb, and District Manager Rick Rogers recently attended Sportsman's Night Out. The event was hosted by Hillsboro Bible Baptist Church in Highland County and featured clinics, vendors, and refreshments. Attendance for this year's event was around 1,500 individuals. Division of Wildlife staff answered questions from the public, and Buckeye Big Buck Club scored 121 white-tailed deer racks at the event.
State Wildlife Officer Houston Wireman, assigned to Shelby County, discovered three hunters from Michigan on a no-hunting nature preserve. Ohio law requires a person to obtain written permission before hunting on private lands or waters and to carry the written permission while hunting. All three hunters were issued a summons for hunting without permission.