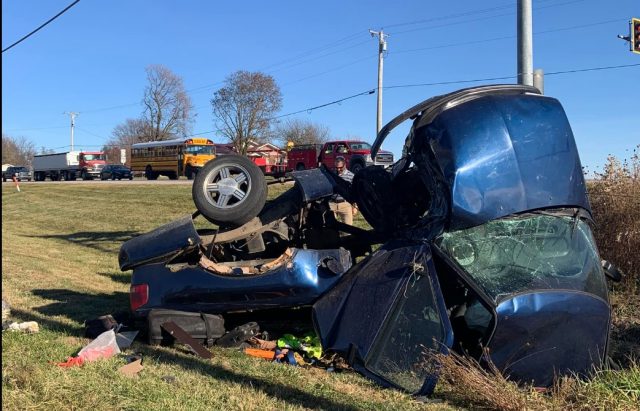 The Fayette County Sheriff's Office responded to a two-vehicle injury crash on US 62 at the intersection of SR 753 on Monday afternoon. The call was received at approximately 2:20 pm.
Draydon L. Moore, age 20 of Washington Court House was operating a 2002 Chevrolet S-10 south on US 62 and lost control, colliding with the rear of a 2017 Dodge Ram driven by Donald M. Stevens, age 54 of Washington Court House. Stevens reported being stopped for the traffic signal and had just began to move when the collision occurred. After striking the Stevens vehicle, Moore slid off the right side of the roadway colliding with a utility pole and overturned before coming to rest. Moore was not wearing a safety belt at the time of the crash and is believed to have been ejected from the vehicle. Moore sustained serious injury in the crash and was transported by Fayette County EMS to Adena Fayette Medical Center and subsequently airlifted to a Columbus area hospital for further medical treatment. Stevens and his passenger reported no injury in the crash.
The crash remains under investigation. The Sheriff's Office was assisted at the scene by members of the Washington Court House Police Department, Washington Fire Department, Fayette County EMS, and the Ohio Department of Transportation.