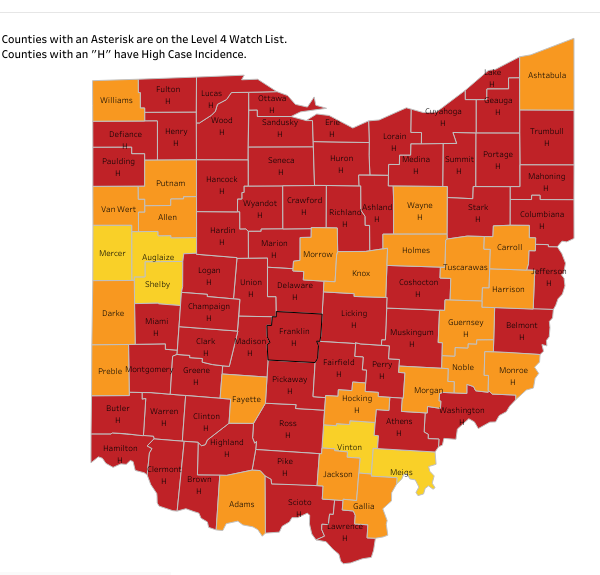 FAYETTE – Fayette County is now orange (level 2) on the Ohio Public Health Advisory System (OPHAS). This is the first time Fayette County's risk level has decreased since the county moved to red on October 8, 2020.
FCPH has reported 20 cases over the last two weeks, or 70.11 cases per 100,000 people.
"The last 5 months of being a RED county have probably been the most difficult months out of the entire pandemic. I want you all to know how insanely excited I am that we are ORANGE! When I received the call yesterday, I had tears in my eyes. I want to caution us all though and remind everyone that going orange does not mean rip off the masks, have huge parties, throw caution to the wind or forget about all of the public health orders still in effect. We have a chance to get to yellow and possibly help the state lift some of these restrictions we are all ready to part ways with once and for all, said Leigh N. Cannon, MPHDeputy Health Commissioner"
Counties around Fayette are still struggling with high rates, Pickaway, Ross, Highland, Clinton, Green, Clark, and Madison still remain red.
Five counties are yellow and the lowest left in the scale, two in southern Ohio are Vinton and Meigs county.