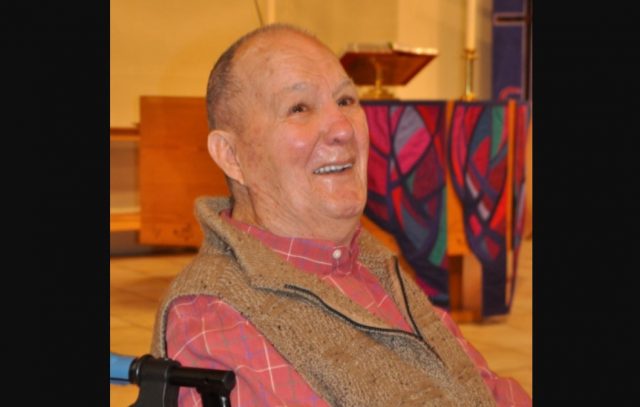 Ernest Gene Martin, age 85, died peacefully at his home on January 11, 2022.  He was born, April 23, 1936, the seventh child of eight children to Waldo Porter Martin and Catherine Valentine Martin and lived most all of his life on Bell Station Road, Circleville, Ohio.  He graduated from Walnut High School in 1954, served in the Army Security Agency for three years in Japan and Korea, and then returned to Ohio where he met Nancy Ann Schultz, whom he married in 1959.  Ernie and Nancy raised their four children, who were active in sports and 4-H, raised sheep and his famous strawberries for sale to the public.  He worked at DuPont in Circleville for 35 years, served as a Trustee for Circleville Township for 16 years, a Lutheran for many years, and volunteered for various organizations in the community.  He was a member of the Masons, and regular at Wendy's and Captain D's.  While his greatest hobby was training standardbred horses, his greatest joy was his family, especially his grandchildren, all of whom he watched play in sports.  In 2007 he married Karen Kepner, whom he was never able to tame.  They shared many joys and challenges, and she was with him to the end.
He was preceded in death by his parents and first wife; six siblings, Marlene Fullen, Vivian Noecker, Betty Melvin, Porter Martin Jr., Wilson Martin, and Mae Huggins; and a daughter, Nanette Spence. He is survived by his second wife; sister, Marguerite Shelton; three children, Natalie (Debbie) Martin, Nadine Adams, E.P. (Sandi) Martin; son-in-law Curt Spence, Jr.; seven grandchildren, Madison (Tyler) Shepherd, Lindsey (Kevin) Adams, Logan Adams, Makenna (Daniel) Lyons, Audrey (Garrett) Martin, Porter Martin, and Mackenzie Martin, and one great-granddaughter, Layla Shepherd; and some very special cousins, nieces, nephews, friends, and children whom he mentored.
Funeral services will take place 11 am, Saturday at Grace Lutheran Church (Colfax), 5575 Cincinnati-Zanesville Rd NE, Lancaster, Ohio, with The Rev Diana Gugel presiding.  Friends may call from 4-7 pm, Friday, Wellman Funeral Home, Circleville, Ohio, and 9-10:30 am, Saturday, Grace Lutheran Church.  In lieu of flowers, contributions may be made to Grace Lutheran Church, Colfax, and the Parkinson's Foundation.  Online condolences can be made to www.wellmanfuneralhomes.com.