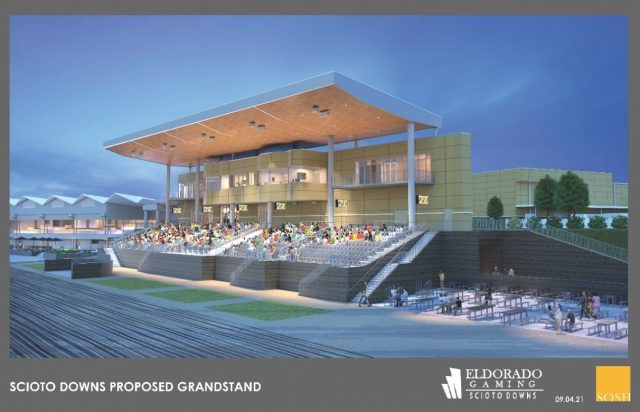 COLUMBUS, OHIO (Oct. 28, 2021) – Eldorado Gaming Scioto Downs, Ohio's first racino, today unveiled plans for a brand new, $20 million trackside grandstand designed to showcase the races at Scioto Down's iconic track. The new grandstands include stadium seating, and ground-level terrace seating, as well as an open apron area and two VIP suites.
"For over six decades, Eldorado Gaming Scioto Downs has hosted countless live races, concerts and events at the track, and the Grandstands are an integral part of the viewing experience for guests," said Joseph Morris, Senior Vice President of Racing for Caesars Entertainment. "This investment will significantly improve that experience, and we are incredibly excited to debut the all-new Grandstands and welcome our racing fans back to the track."
At 30,000 square-feet, the new Grandstands will feature 768 stadium seats on the main level, an additional 280 seats on the terrace and an open apron area. The two VIP suites on the top level will accommodate up to 130 guests and offer a variety of food and drink options.
Earlier in 2021, Eldorado Gaming Scioto Downs completed a $600,000 renovation of the racetrack, resulting in a resurfaced track, updated apron concrete, new bath stalls in the paddock, a revamped drivers' lounge and a refreshed 500-seat clubhouse. The property also created a detention area for the horsemen.
Scioto Downs debuted its Grandstands on Oct. 9, 1959, with more than 7,000 fans in attendance, as part of a $2.5 million construction project. The following year, the clubhouse opened with seating for 500 guests. Before the gaming addition, the Scioto Downs track hosted many events outside of racing, including the High School State Championship Meet, the 2006 Grand National Championship Flat Track Motorcycle Races and various charitable events. From 2013-2016, the Grandstands, patio and apron were home to the Summer Concert Series featuring an array of nationally renowned acts. Beginning in 2017, the Grandstands closed to the public, but racing continued with temporary seating on the apron.