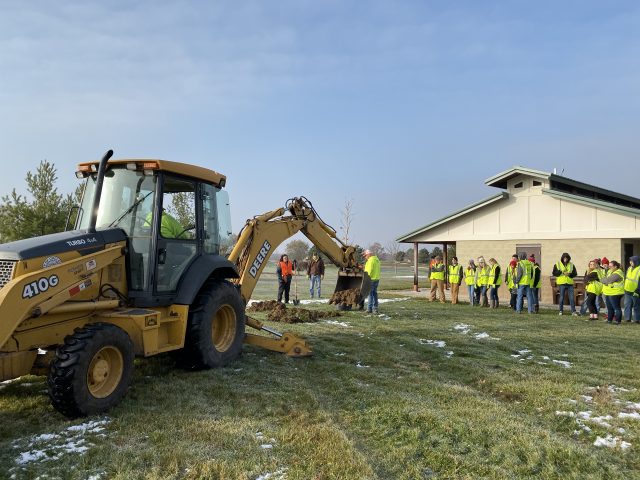 CIRCLEVILLE – It was a chilly day in Mary Virgina park at 9 am, on Friday November 15th, but over two dozen volunteers consisting of High School Seniors from Circleville High, Friends of Mary Virginia Park, Circleville City Service Department, County Park Board, Dupont and the Tree Commission, came out to the park to plant twenty six trees that were funded from a grant.

Paul Hang Chairman of the Circleville Tree Commission said in late August he was contacted by Urban Forester for this region, Lisa Bowers, who had been contacted by Claus Eckert from Green Columbus. Green Columbus had been given a $5,000 grant from DuPont to plant trees in Circleville. We invited Claus to our September meeting of the Circleville Tree Commission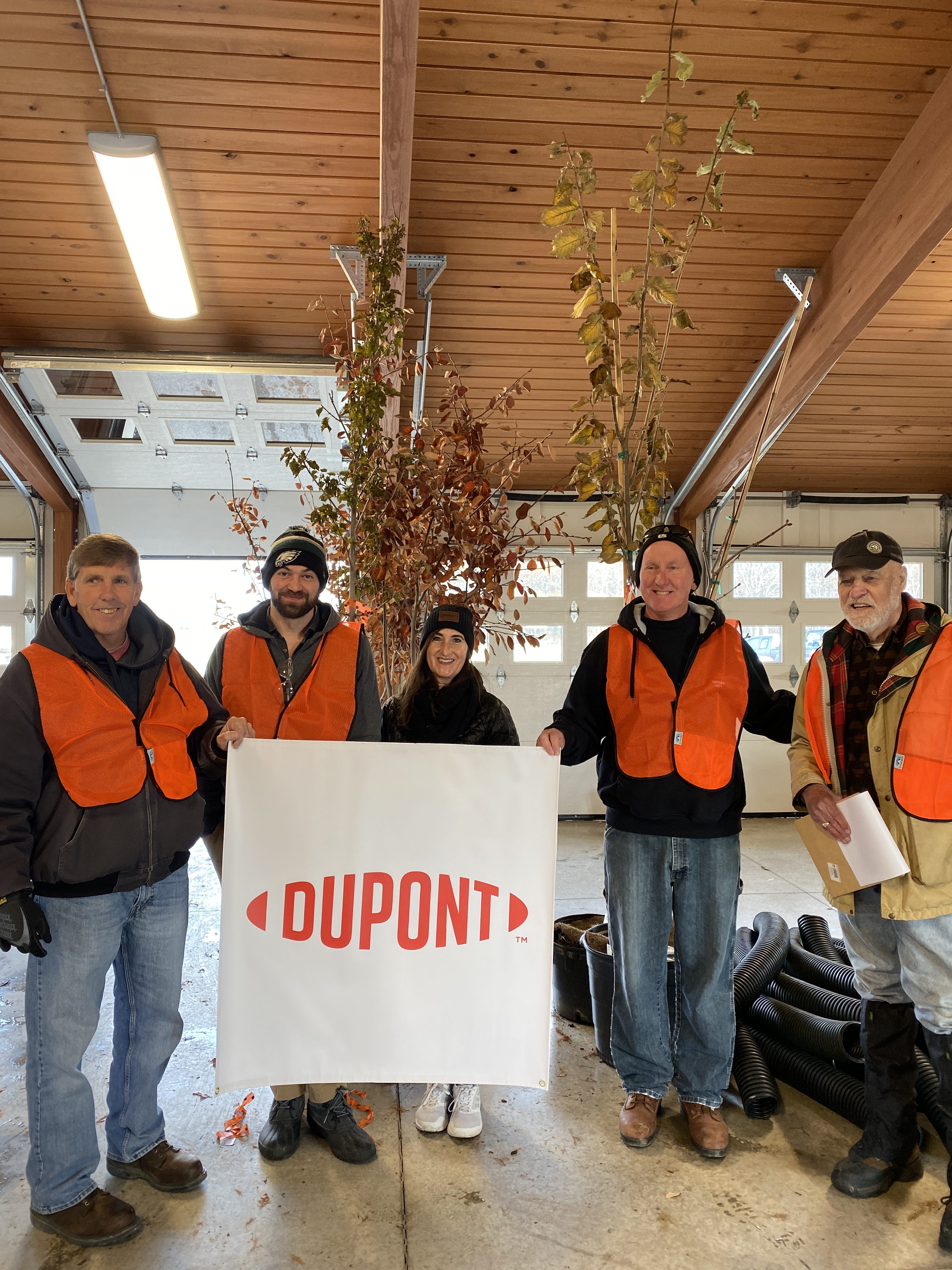 Green Columbus is a group of volunteers that plant trees. They have about 5,000 volunteers and have planted 20,000 seedlings for a reforestation project.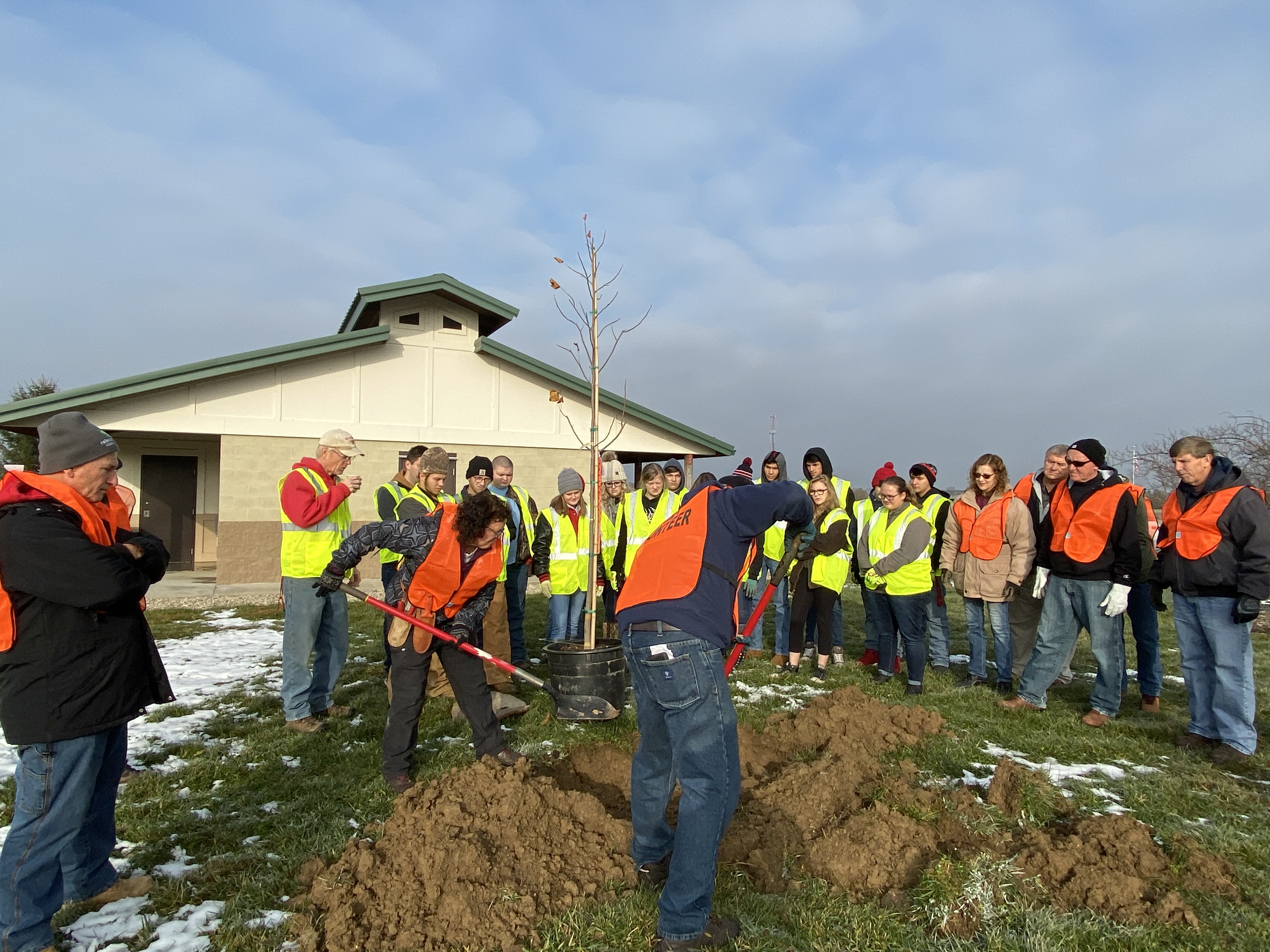 "They asked for our help and can offer some volunteers, signing up volunteers for waivers, water and snacks, tools and administration of the grant for $500. They wanted to hold a one-day event in November with no more than two areas for planting. We needed to provide the location(s), the number of trees and the types of trees, and volunteers. We would also order the trees and supplies. We had the opportunity to have $4,500 worth of free trees, planted in the ground and mulched. We developed a budget for trees, mulch, compost, gator bags, etc., and some money for watering for the first two years. As you may know, watering commitments are crucial for the establishment and survival of newly planted trees," said Hang.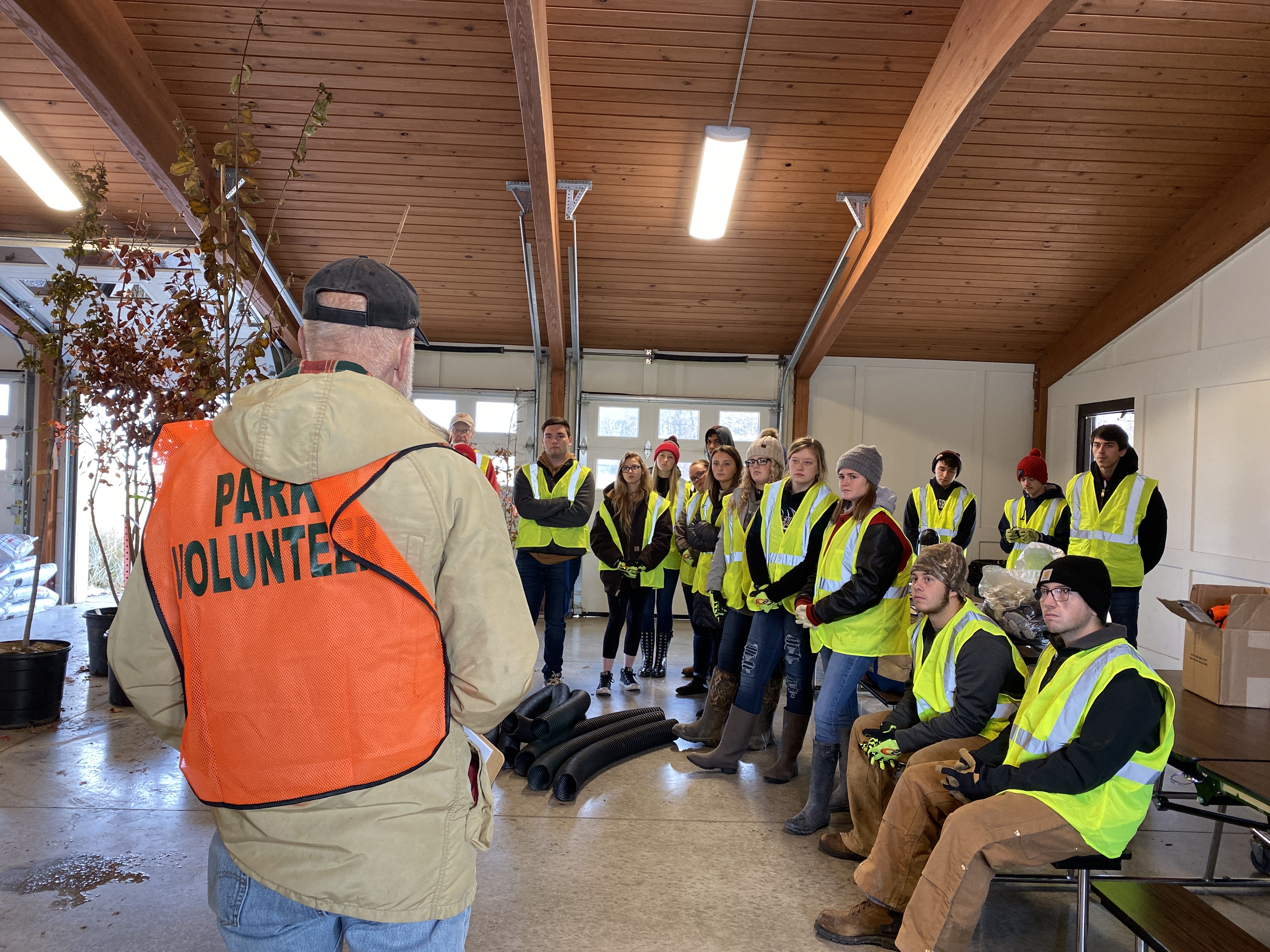 Because of the timelines of this grant they proposed three locations for the trees but only one was ideal for this grant, Mary Virginia Park. The other two that were suggested were Roundtown Trail by the YMCA and East Main Street. The decision for Mary Virginia Park came down to one location, parking, a water source(s), visibility, easy access for digging the holes (the city can help), and a need for shade and wind breaks. This location fit the timeline to make sure that the tree commission would not miss the timeline for the 5,000 dollar grant.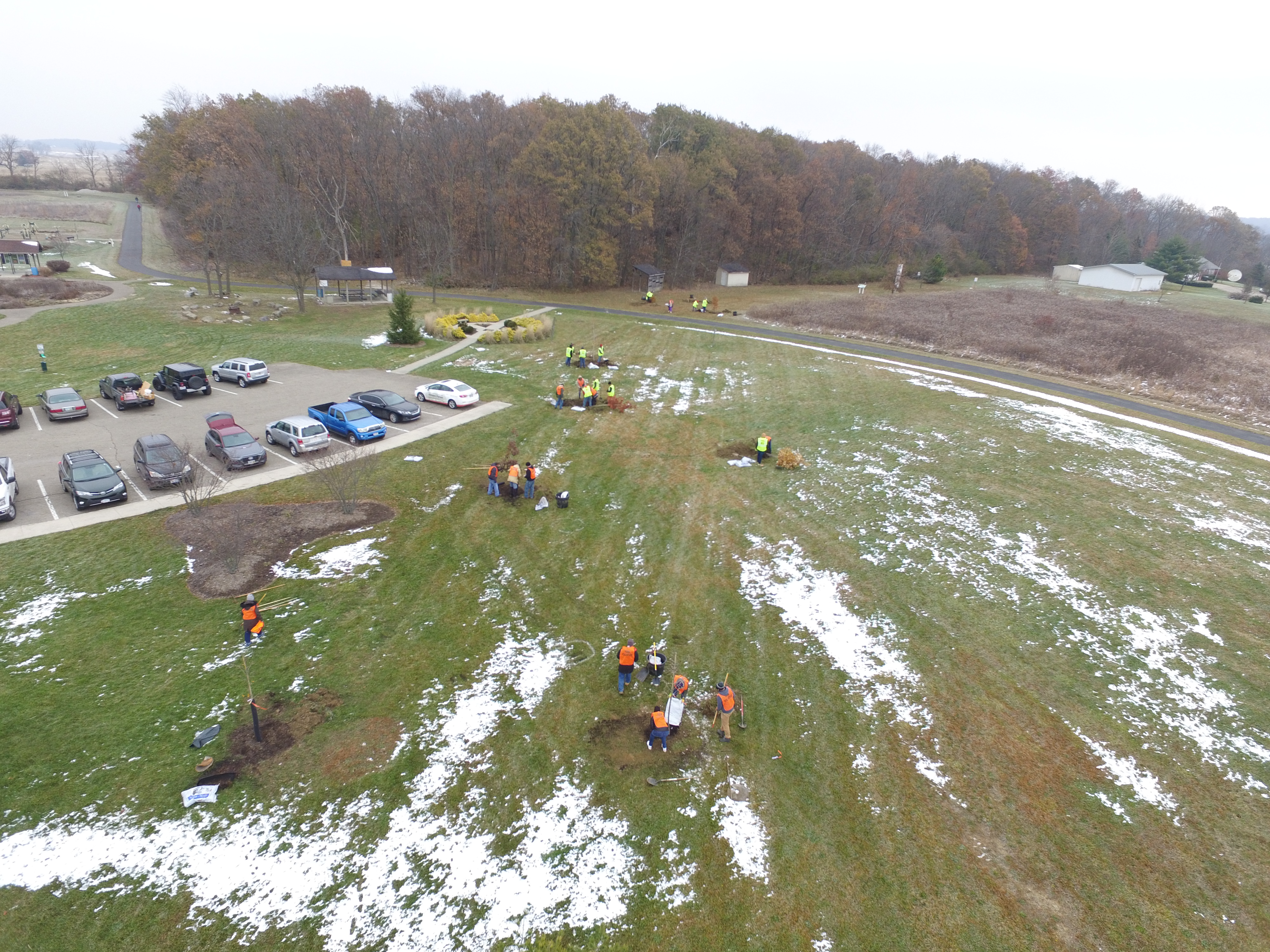 Those tree were carefully planned out in these locations, the exercise area; parts of the parking lots at the Starkey Pavilion and Spray Ground; add to shade at the playground; not interfere with the location of the Bluebird Trail or the Butterfly Garden; aid in reducing the seemingly constant wind in that area of the park. Finally, it would eventually change the character look and feel of that well used area to one of a restful cooler less windy beautiful space.
Circleville City Council Woman Sheri Theis attended the event and helped plant trees along with Councilman Barry Keller who also was representing Dupont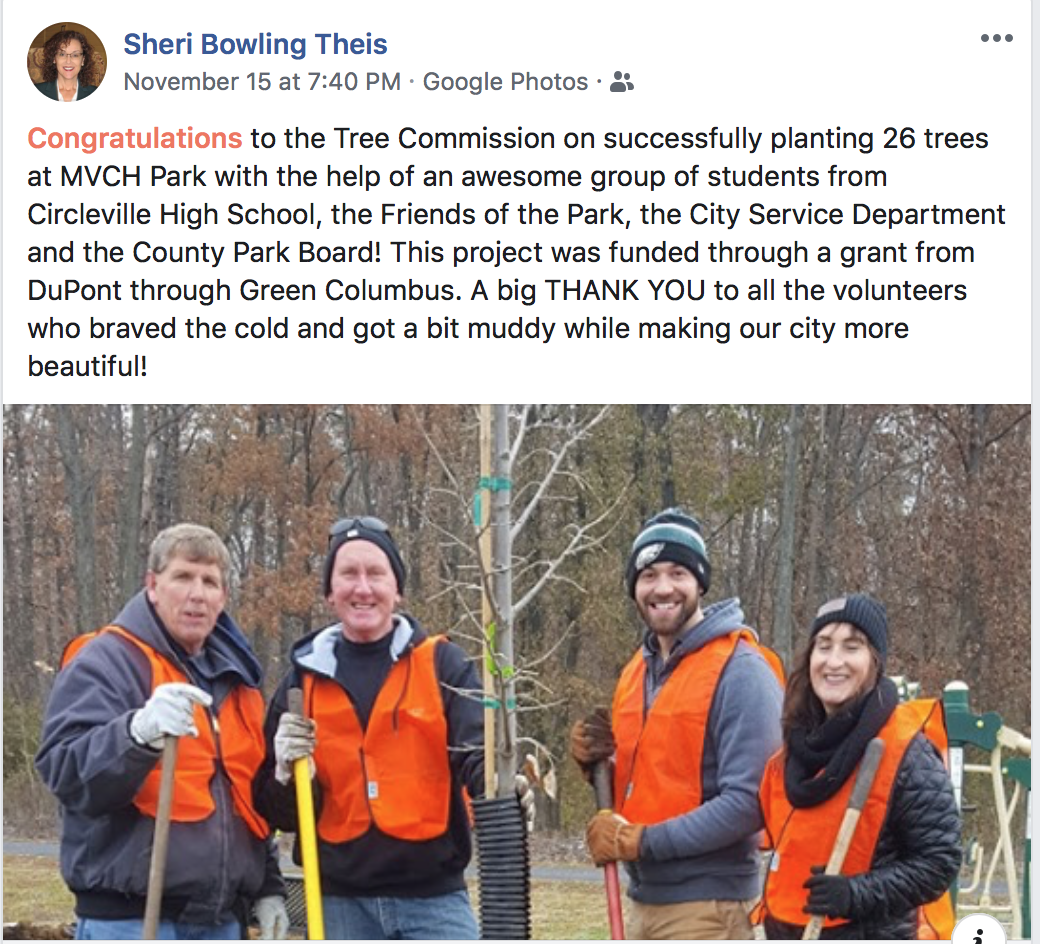 On November the 15th at 9am the tree commission met at the Starkey Pavilion at Mary Virginia Crites Hannan Park for sign-in, a demonstration on how to properly plant a tree, tool handouts and assignments and planted the 26 trees.
More great photos here:https://photos.google.com/share/AF1QipNLyWpnm5lSQN6JF2bN38RY04EyKwurFB2qb5Ip2ZzDNY554FtQ2LGjYZtp40heOg?key=Q3RjV00wbnIwRTBLR28weWs5T0xqY1BuUjhXM01B