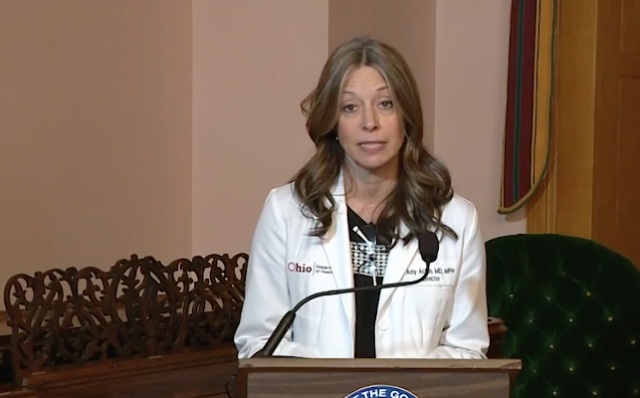 OHIO – Dr. Amy Acton is stepping down as director of health after a strenuous battle with Covid-19 Pandemic.
Acton has come under attack lately after being sued by organizers of events, music festivals, and restaurant owners over reopening.


"I really want to say most of all to Ohioans: Ohioans, you have saved lives. You've done this," she said.
Acton told Ohio during a press conference that being State Health director has been an "honor of a lifetime."
Republicans limited her power early last month when they became frustrated with stay-at-home orders. Acton will stay on board as Cheif Health Advisor within the Governors administration, but from behind the cameras.



Stay at home order protesters had picketed her home recently.
Acton will be replaced by Lance Himes, who will assume the duties of Interim Director.
The governor released a statement, on Dr. Actons hard work and dedication to Ohio:
"When I was elected governor, I knew that I wanted a Director of Health with a strong public health background, someone who had a passion for public health, and someone who could talk to Ohio citizens in a candid way about health issues. "We interviewed some great people. On February 26, 2019, I was able to announce that we named my final cabinet director and that Dr. Amy Acton had accepted my offer to be Director of Health. With her leadership and help, in the first year, we focused on infant mortality, home visiting for at-risk, first-time moms, lead paint, youth homelessness, suicide prevention and the modernization of our public health system. When COVID-19 hit China, Dr. Acton started talking with me about it in January. Her wise advice and counsel and connections with other doctors and health experts led us safely through those first few weeks. While the decisions were always mine, her counsel was superb. I will always believe and know that many lives were saved because of her wise advice. Dr. Acton has told me that she felt that it was time for her to step down as Director of Health. I have asked her to now serve as my Chief Health Advisor where she will continue to serve the people of Ohio in a meaningful way. Let me say how very grateful I am for Dr. Acton's selfless and tireless service to the people of Ohio as our Department of Health Director. No one is more passionate about public health than Dr. Amy Acton. She always puts the health and safety of Ohioans first and foremost."