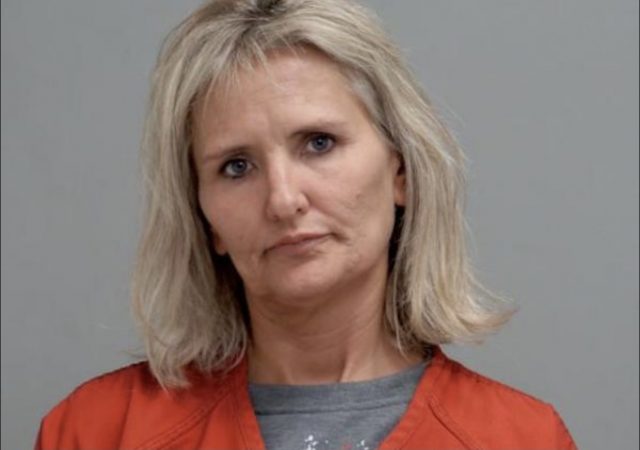 PICKAWAY – A local woman had to be tased twice after Pickaway Sheriff attempted to arrest her for OVI on Wednesday.
According to Pickaway County Sheriff reports a call to 911 came in from a woman who witnessed a person operating erratically on Tartlon Road close to the Logan Elm School. The caller identified a white Honda that she was following during the call. Deputies caught up the Honda around the 9575 block of Tarlton road (Logan Elm High School) where the suspect was outside of the vehicle with the driver's door open into traffic. When the deputy stopped with his flashing lights, the suspect identified as Angela Trimble got into the driver's seat and attempted to leave the scene. The Deputy noted in his report that her vehicle almost hit the Pickaway Cruiser. Trimble was ordered out of the vehicle at that time but did not listen to commands, the deputy said that he noticed that the suspect's eyes were bloodshot, glassy and she had slurred speech. When officers told her to keep her hands on the vehicle she turned to them and said, "Do you know who I am?" "I am Mark Trimble's wife!"
Mark Trimble is former law enforcement from Pickaway county.
The report continued saying that Mrs. Trimble became more irate, and said, "all she did was smoke marijuana at 0830 hours this morning." That's when Deputies decided to start an investigation into an OMVI and attempted to put the woman into cuffs due to her erratic behavior. During the interview Trimble said to officers, "she just wanted to be escorted to her daughters' residence, and began yelling that she had an appointment to go to and that she could not believe "we would do this to a fellow brother in blue."
Ms. Trimble was escorted to the back of the patrol vehicle, however refused to get in the vehicle, and resisted both deputies ' attempts to get her safely in the vehicle. Ms. Trimble attempted to kick deputies in the face, and chest and had to be tased to gain compliance. Once in the vehicle, Ms. Trimble slipped the handcuffs and refused to comply with officers' orders to exit the vehicle so she could be handcuffed again. Deputies had to remove Ms. Trimble from the vehicle at which time she began fighting. Deputies escorted Ms. Trimble to the ground and were able to get her handcuffed again with several officers' assistance. Ms. Trimble was assisted up and again resisted getting into the patrol vehicle, with Ms. Trimble having to be tased a second time to gain compliance.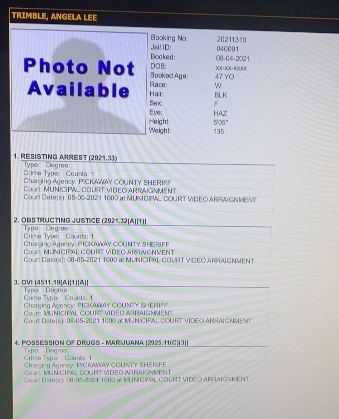 Trimble was transported to the Pickaway County Jail where she was charged with OVI, Obstruction of Official Business, possession of drugs Marijuana, and Resisting Arrest.
Trimble is a Licenced Practical Nurse in Ohio