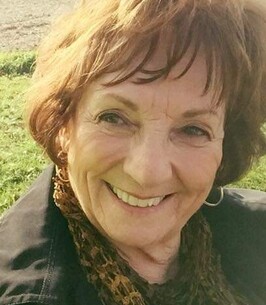 Diane Patricia Groom Saxton, 81, returned to her heavenly home on October 11, 2023 after an extended illness. She was preceded in death by her father Augustine C. Groom, mother Edna Groom, brother Alan Acton, special uncle George William Groom, son-in-law Jeff Hatfield, and son Bradley Charles Saxton. A graduate of the Ohio State University, Diane formerly taught elementary students in Columbus and Chillicothe City Schools before her retirement in 1983. She was especially gifted teaching students how to read and helping underprivileged children at Mt. Logan, Massie, Western, Worthington, and Tiffin Elementary Schools. She formed lasting friendships with many special fellow educators with whom she loved working and traveling.
Mrs. Saxton is survived by her loving husband of 58 years, Steve Saxton. The Saxtons were married at Trinity United Methodist Church, Chillicothe and are members of Mt. Pleasant Presbyterian Church, Kingston. Also surviving are son Jon (Angie); daughter Leslie; and grandchildren Taylor (Tyler) Kelly; Stephen Michael Saxton; Jackson Hatfield; and Siena Hatfield; a sister, Jean Snyder; sister-in-law Sara (John) Ticer, and newphews, Mike and Robert Snyder, and Dana Acton.
Diane enjoyed a variety of hobbies including photography, gardening, quilting, knitting, antiques, and golf. Ever the classy lady, Diane was an especially talented decorator. Family members always sought Diane's advice when decorating their homes.
A member of the Daughters of the American Revolution, Diane took special interest in genealogy and had traced her ancestry back to the original Jamestown Settlement. Her mother's family, the Ludwigs, had been deeply rooted in paper-making in Chillicothe since just after the Civil War and she was very proud of the significant contributions her relatives had made to industry and to education in Chillicothe. Of all her hobbies she especially enjoyed her days on the family farm which included "Italian Nights," fishing, golf cart rides, long walks, raising puppies, and loving on her precious grandchildren.
The family will receive friends at Haller Funeral Home, 1661 Western Avenue, Chillicothe between 2 and 5 p.m. on Sunday, October 15. Funeral services will be held at Tabernacle Baptist Church on Monday, October 16 at 11:00 a.m. officiated by Pastor Chris Brown, a former student and special friend of the family. Burial will follow in Grandview Cemetery. In lieu of flowers the family has requested donations be made in memory of Diane to the Multiple Myeloma Society at www.myeloma.org.