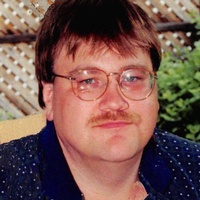 David Alan Smith, 54, of Chillicothe, went to Heaven to be reunited with his mother and brother Jim at 4:45 p.m. on Thursday August 31, 2017.
Dave was born on June 24, 1963, to Everett and Barbara (Vollmar) Smith in Chillicothe.
Dave is survived by his former wife, Shelly Henderson and son Josh Henderson; his father, Everett Smith; brother, Scott Smith; nephews, Casey Smith, Jimmy and Chase Smith; many aunts, uncles and cousins from both the Smith and Vollmar families; and his beloved pet cats. He was predeceased by his mother, Barbara Smith; a brother, Jim Smith; his beloved grandparents, Rosalie and Walter Vollmar and Ruth and Roy Smith.
He attended Trinity United Methodist Church. Dave graduated from Pickaway Ross Vocational School and Chillicothe High School in 1981.
He was a machinist by trade and was a master craftsman in many other fields as well. He lived in Cincinnati for a while where he worked as a machinist making parts for aircraft. He also worked as a computer specialist, computer programmer, and software developer. Dave moved back to Chillicothe and worked as a supervisor at Riffle Machine Works.
Dave battled diabetes for many years. He had to retire as his health declined.
If you were ever blessed to know David, you would find a life-long friend. He made many friends throughout his life and through work. He was kind hearted, loving and generous. He will be greatly missed by all who knew him.
Funeral services will be held 1 p.m. Wednesday, September 6, 2017 in the WARE FUNERAL HOME with Pastor Kurt King officiating. Burial will follow in Browns Chapel Cemetery. Friends may call at the Ware Funeral Home from 5 to 8 p.m. Tuesday.
You may sign his online register at www.warefh.com