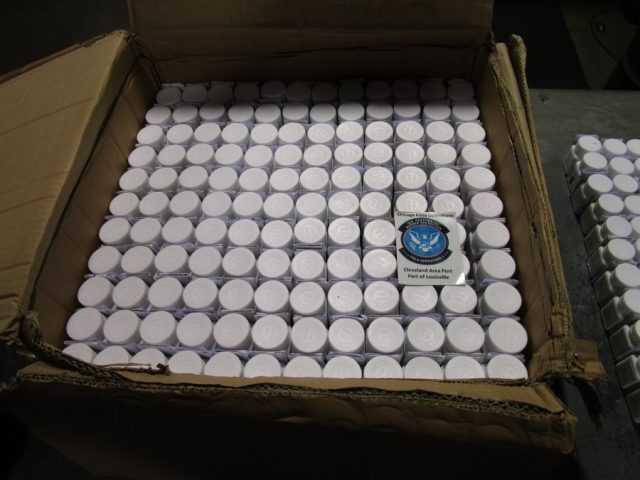 LOUISVILLE, Ky.—Last night, Louisville Customs and Border Protection (CBP) officers intercepted 500 bottles of Viagra arriving from Hong Kong. Each bottle contained 30 100 milligram tablets, for a total of 15,000, pills. The shipment was heading to an individual in Brooklyn, NY. If genuine, the pills would have had an estimated manufacturer's suggested retail price (MSRP) of $1.06 million.
The bottles had labels stating they were made in the USA, but those claims are suspect as the pills were being imported from an industrial company in Hong Kong.
Medications purchased from online sources can be improperly produced without pharmacological specifications and safeguards that ensure the protection of human health. Prescription medications manufactured in non-regulated foreign companies often contain dangerous contaminants or ineffective compounds, and though their packaging and labelling can be like genuine products, inconsistent ingredients and sub-par quality controls can endanger the consumer.
"This is a dangerous game consumers are playing that could have disastrous results," said LaFonda D. Sutton-Burke, Director, Field Operations-Chicago Field Office. "Consumers are purchasing these prescription medications from other countries thinking they are getting them at a discount, when in fact they are purchasing an inferior product with unregulated ingredients."