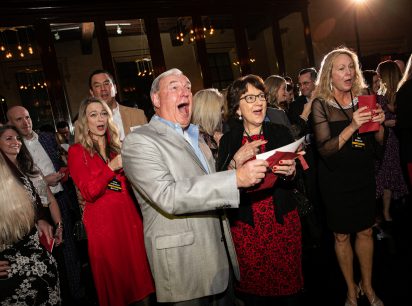 Baltimore – A Baltimore company shared out a large Christmas bonus at their annual party. The unprecedented surprise bonus announcement was made internally by company founder and chairman Edward St. John at the company's annual holiday celebration, held at The Grand in Baltimore on December 7, 2019
"I steer the boat, but they are the ones that run the boat, said Edward St. John company founder and chairman, "They are the ones that make the boat go. Without the team we are nothing, we are absolutely nothing."

St. John Properties Announces $10 Million Bonus for All 198 Employees from St. John Properties on Vimeo.
The bonus was based on how long you have worked for the company the longer you have been with the company the bigger the bonus. Bonuses ranged from 50,000 to 250,000 dollars. Only five employees knew of the bonus before the event. One of the employees on the video said this was life changing for her
"To celebrate the achievement of our goal, we wanted to reward our employees in a big way that would make a significant impact on their lives," said Edward St. John. "I am thankful for every one of our employees, for their hard work and dedication. I couldn't think of a better way to show it."
Since founding St. John Properties nearly 50 years ago, Edward St. John has built the company from a team of two employees, into one of the Mid-Atlantic region's largest and most successful privately-held commercial real estate companies. The Maryland-based company boasts a portfolio that includes 20 million square feet of commercial space valued at $3.5 billion. The goal of developing 20 million square feet was set in 2005 when the company had 10 million square feet of space. Over a 14-year period, the company successfully weathered a recession and grew from a five-state footprint to the eight states in which it currently operates.