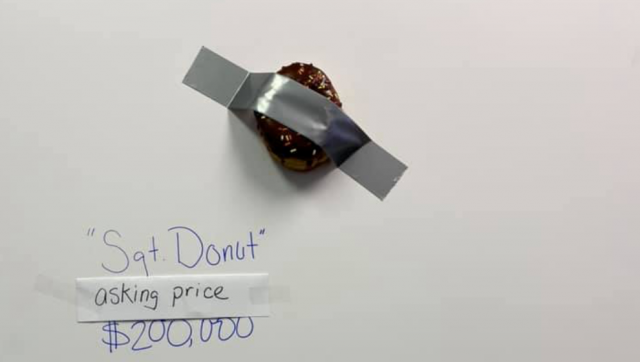 USA – Last week a piece of art consisting of a banana and duct tape stuck to a wall by renowned Italian artist Maurizio Cattelan's at Art Basel Miami Beach sold for 120,000 dollars. The piece called "Comedian." is one of two others that have sold for 250,000.

Tampa's finest decided to take a stab at their own "interpretation" of Cattelan's art by taping a donut to the wall of the station and auctioning it off to the highest bidder. The art piece called "Sgt. Donut" is on display at TPD. The cities most elite artist, Chief Brian Dugan, created this one of a kind piece, and current
Asking price $200,000. Currently the high bid is ten dollars.
Who will be our highest bidder? It's time to open up those pockets.