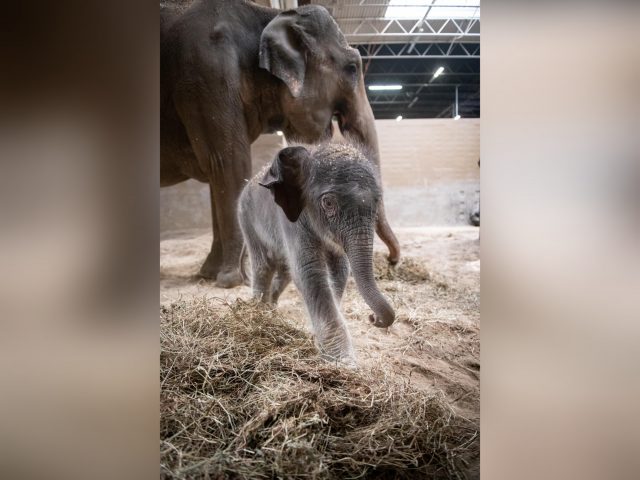 Columbus OH- On Wednesday, June 16, 2021 at 8:48 p.m., the Zoo welcomed the much-anticipated birth of a male Asian elephant calf in the Zoo's Asia Quest region.
As an experienced mother, 33-year-old Phoebe is providing exceptional care to her big bundle of joy, who recently weighed in at 261 pounds. Phoebe and her calf have remained behind the scenes as they continued to bond with one another and other members of the herd while also achieving other milestones such as exploring other areas of the indoor habitat in the Zoo's elephant and rhino building. The calf is rather vocal, sometimes emitting a low grumble, and he continues to test out his trunk while exploring his surroundings.
The pairing of Phoebe and 33-year-old father, Hank, was recommended by the Species Survival Plan® (SSP), a program coordinated by the Association of Zoos and Aquariums (AZA) to maintain genetic diversity of threatened and endangered species in human care. While Phoebe and Hank had the opportunity to breed, this has been unsuccessful in the past and she was artificially inseminated. Artificial insemination is carefully coordinated by animal health experts and enables an elephant to be impregnated at her most fertile time. While this is still a relatively rare procedure for elephants, most successful elephant artificial insemination attempts (approximately 20 in total) have occurred with African elephants. Artificial insemination is very uncommon with Asian elephants, with less than 10 successful outcomes. Two of these scientific achievements have occurred at the Columbus Zoo (with the first time occurring in Phoebe in 2016). Attempts to artificially inseminate elephants are becoming more frequent to bolster the numbers of endangered elephants, whose populations continue to rapidly decline in their native range.
According to the International Union for Conservation of Nature (IUCN) Red List of Threatened Species,™ Asian elephants are listed as endangered in their native range across southern and southeastern Asia and are in decline due to various factors including habitat loss/degradation and poaching. The World Elephant Day organization estimates there are fewer than 40,000 Asian elephants and less than 400,000 African elephants remaining worldwide.
Additional updates about Phoebe and her calf continue to be provided on the Zoo's social media accounts, including Facebook, Instagram and Twitter.