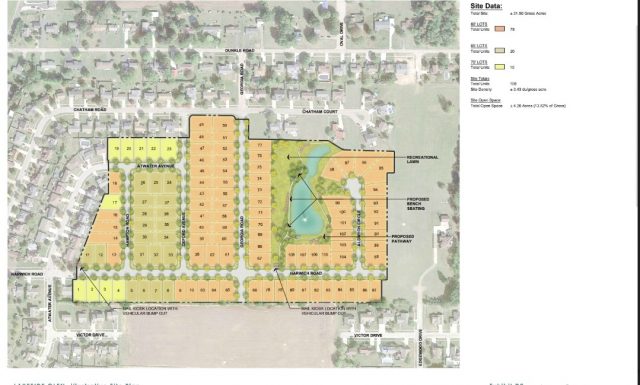 Circleville –  Lakeside Glen PUD will be heard at a Public Hearing on Wednesday, January 4th at 6 p.m. for a rezoning of a possible housing development in North Circleville at Circleville Council chambers
The development called Lakeside Glen is planned by Coughlin Investment, the developer is planning to take 31 acres of open space land and turn it into a 108 single-family housing development located adjacent to the Rockford homes development off Walnut creek pike. In the plans, the development calls for 4.25 acres of open space that will include a pond, walking trail, and access to and use by the homeowners.
The variance the developer is asking for is mostly to change zoning already put in place to reduce the size of lots in the development the biggest variances are on lot setbacks, front, side, and rear. The largest is the distance from the back of the houses to the property edge, zoned to be 35-40 feet but they are asking to cut that down to 25 feet, people on Atwater and Victor will have homes 25 feet from your back door. The front setback is zoned 25, they want 20, they are also asking to decrease the MDR frontage from 65 to 60 and LDR from 80 to 70.
Several neighbors in the area are concerned with these setbacks when it comes to property values, police presence, and water pressure.
Rockford homes developer is also building homes adjacent to this lot and is maintaining the original zoning that is significantly larger than the lots planned for this development.
DISCLAIMER: I live in this development, and adjacent to this property to be developed. I reported on this without my opinion and used facts and opinions from others.