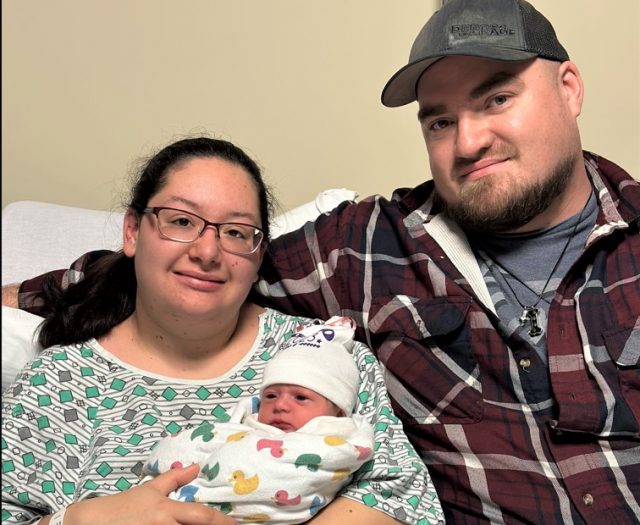 CHILLICOTHE, OH (January 2, 2023) – Across much of Ohio as New Year's Day began, multitudes of Ohio State University Buckeye fans found themselves glued to a pair of televisions or a split screen showing two notable events happening simultaneously.
One involved the ball in New York's Times Square lowering toward the start of 2023, while the other was of Ohio State attempting what had the potential to be a game-winning field goal in a college football national semifinal game.
For Chillicothe residents Sierra Newland and Paul Hammond, however, the flipping of the calendar to January 1 was spent at Adena Regional Medical Center on something of much greater impact for their family — preparing to welcome their first child. At 9:44 a.m. New Year's Day, that wait ended as their daughter, Penelope Jean, became Adena Health System's first baby of 2023.
"It went really great," Sierra said of her labor and delivery experience at Adena. "Everyone was very responsive to my needs and super nice. I was really grateful for them."
The new addition to the family entered the world at 7 pounds, 4 ounces and was 20 inches long. Penelope, Sierra said, was one of the names that both she and Paul could agree upon, while Jean was selected as a middle name because it was the middle name of their baby's late great-grandmother.
Sierra said the positive labor and delivery experience was an extension of what had been a pretty smooth pregnancy. As she neared Penelope's due date, she said she wasn't really anticipating what the birth would be like, taking the approach "that she'll be here when she'll be here."
Her advice for other first-time mothers-to-be is a bit of a reflection of that approach.
"Just stay calm and trust what your body tells you," she said.
The first day of Penelope's life was spent with her parents and both sets of grandparents in the hospital. Looking ahead to their return home, Sierra said her immediate plans are relatively simple.
"We're just looking forward to spending time with her and having everyone else meet her," she said. "It really hasn't quite sunk in yet."
As it does each year, the Adena Women's Board provided a gift basket for the first baby of the new year born as the result of spontaneous labor that was not induced or scheduled.
During an average year, Adena Health System helps parents bring more than 1,000 new lives into the world. To learn more about Adena's women and children's services, visit Adena.org.