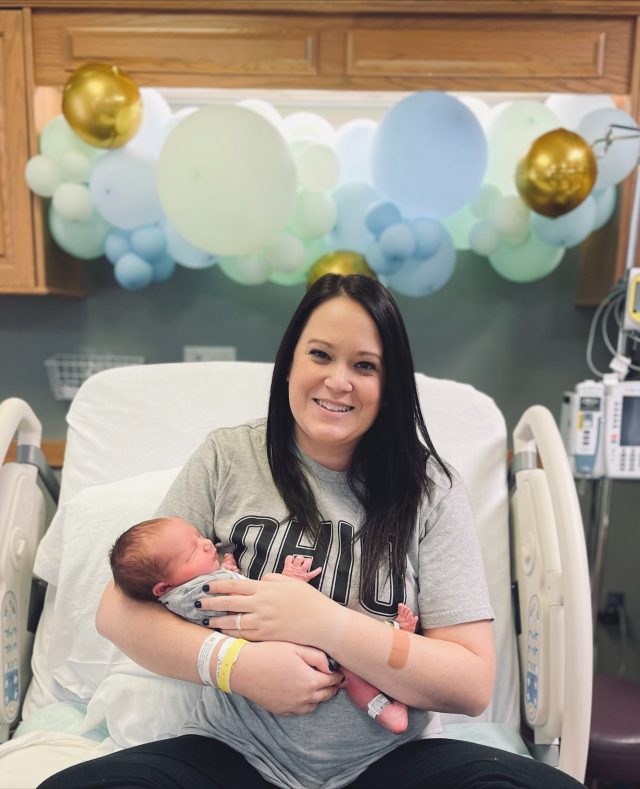 (Circleville, Ohio) – OhioHealth Berger Hospital is proud to join Lifeline of Ohio's Placenta Donation program, which began in 2019. This program provides expectant mothers the opportunity to heal others through the donation of their placenta.

"I recently had a family member receive a donation from Lifeline of Ohio," stated Sarah Eberts, first placenta donor at OhioHealth Berger Hospital. "Through that process I learned that I could help others by donating my placenta. I knew immediately this was something I wanted to do. Being able to help others has always been important to me and this was a great way to give back," said Eberts.

Healing grafts made from a placenta donation are used for a wide range of procedures involving eye, oral and spine surgery. They can also be used for treatment in difficult-to-heal wounds such as diabetic foot ulcers, venous leg ulcers, pressure ulcers and burns.

OhioHealth Berger Hospital is now part of a program that has grown to include 21 partnering hospitals and approximately 90 OB/GYN offices throughout Central and Southeast Ohio as well as Wood and Hancock counties in West Virginia.

OhioHealth Berger Hospital Maternity Nurse Administration Mary Echard stated, "This is a wonderful program that can support so many with just one donation. It can make such a big difference in someone's life, and I am proud our hospital is now participating in the placenta donation program." Sarah was such an advocate of the program that I knew she would be great
to be our first donor at Berger."

At its core, Lifeline of Ohio's placenta donation program allows expectant mothers with a scheduled C-section delivery to donate the placenta, umbilical cord and amniotic membrane from the birth. Each donated placenta, which would typically be discarded, has the potential to create 25 healing grafts to help those in need.

"We are so excited for this new partnership opportunity," said Erin Pidgeon, Lifeline of Ohio's Supervisor of Placenta Donation Program. "Together with the incredible hospital and OB/GYN office staff, and generous placenta donors, we will provide healing and hope to those who need it most."

Program Highlights
 Any expectant mother, of any age, with a planned C-section can be a potential donor.
 Placenta donation does not change any part of the C-section delivery.
 There is no cost associated for placenta donation.
 Placenta donation is not related to cord blood donation.
To learn more about Lifeline of Ohio's Placenta Donation program, visit
www.lifelineofohio.org/placenta

About OhioHealth  
Based in Columbus, Ohio, OhioHealth is a nationally recognized, not-for-profit, charitable, healthcare outreach of the United Methodist Church.  
  
Serving its communities since 1891, it is a family of 35,000 associates, physicians and volunteers, and a network of 12 hospitals, 200+ ambulatory sites, hospice, home-health, medical equipment and other health services spanning a 47-county area.  It has been recognized by FORTUNE as one of the "100 Best Companies to Work For" 14 times since 2007. 
  
OhioHealth hospitals include OhioHealth Riverside Methodist Hospital, OhioHealth Grant Medical Center, OhioHealth Doctors Hospital, OhioHealth Grady Memorial Hospital, OhioHealth Dublin Methodist Hospital, OhioHealth Hardin Memorial Hospital, OhioHealth Marion General
Hospital, OhioHealth O'Bleness Hospital, OhioHealth Mansfield Hospital, OhioHealth Shelby Hospital, OhioHealth Grove City Methodist Hospital and OhioHealth Berger Hospital.