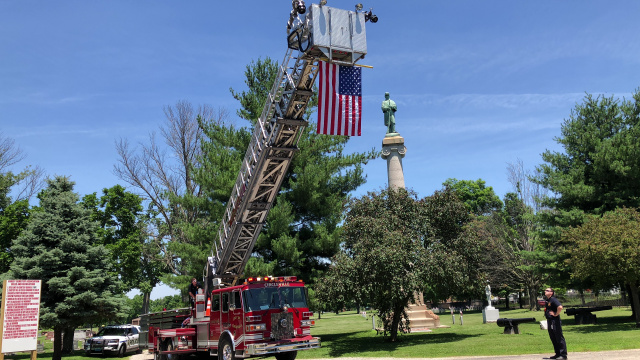 CIRCLEVILLE – Circleville Fire Department shows full honors to Ex fire chief Mike Brown during his funeral on June 15th, 2018.  Circleville Fire Firefighters led the precession and carried Brown on the 1929 Seagraves Fire Truck.  The precession started at Wallmans funeral home located at 1455 North Court Street to Forest Cemetery located at 905 North Court Street.  Firefighter Tony Kalisik drove the ancient truck, tail board with casket was firefighters Lt. Cory Kerns and Capt. Arron Kerns.

Mike Brown served Circleville Fire Department for 29 years, he climbed the ranks to Captain in 1975.  Here is his Obituary :
Mike Brown, 84, of Circleville passed away on June 12, 2018.  He was born on May 16, 1934 in Pickaway County.  He was a retired Circleville Fire Chief and Lake Erie Charter Boat Captain of Brownies Delight.  He loved fishing, hunting, golfing, going to yard sales, making homemade salsa and was a huge Buckeye Fan.  He was preceded in death by his grandparents Francis and Ozetta Brown and a half-sister Carolyn.  Mike is survived by his wife of 64 years Perla Kathleen Brown, children Sheryl (Paul) Combs, Brett (Mary) Brown, Brenda (Carl) Strittmatter, Jeff Brown, Joni (Gary) Bussert, Judi (Ron) Johnson, grandchildren Jason, Jill, Jenny, Amy, Rachel, Staci, Lexi, step grandchildren Kathi and Mark, great grandchildren Carly, Cole, Josiah, Abigail, Emma, Addi, Baby Brynlee, step great grandchildren Morgan, Tori, Liz and Noah, in-laws, nieces and nephews and sister-in-law Alice.  Funeral services will be held on Friday June 15, 2018 at 1:00 p.m. at the Wellman Funeral Home, Circleville with Pastor Ted Davis officiating.  Burial will follow in Forest Cemetery.  Friends may call at the funeral home on Thursday from 2-4 and 6-8 p.m. Memorial contributions are suggested to Circleville Fire Department or Pickaway Senior Center, 2105 Chickasaw Drive, Circleville, Ohio 43113.Online condolences can be made to www.wellmanfuneralhomes.com.