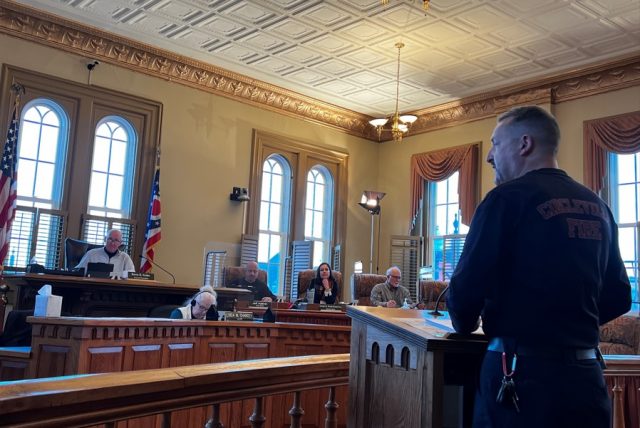 CIRCLEVILLE – Circleville Fire Chief Brian Thompson and Circleville Police department Chief Shawn Baer gave updates this week to Circleville City Council on runs in the city
"We're well over 300 runs for the month of January, said Chief Thompson of Circleville Fire, "We had 26 calls yesterday and 24 hours we covered 24 of those. The other two calls were handled with mutual aid received from us. That's about standard now for us anywhere from 16 to 25 runs a day. So we had 3,981 calls last year, which was up 420 from 2020. So we are extremely busy. 90% of our calls are EMS calls. So that's when the ambulance goes out. So anything from injuries from a fall to overdoses to motor vehicle crashes, heart attacks, etc. So the 3,981 runs that we had last year 3,566 were EMS."
Circleville Fire department has 18 full-time firefighter/EMS personnel, 19 with the Chief.
Chief Thompson spoke to the council about the new engine they will take possession of in March and plans for the replacement of the over 20-year-old ladder truck, and adding more firefighters both with grants.
"So I am leaving tomorrow to go to South Dakota with one of my lieutenants. Our fire truck is two months ahead of schedule from the AfG grant wasn't supposed to be delivered until the mid-end of March. It is almost done. So we're going out next few days and doing the final for it before it's driven back to take the receipt. So once we get that truck and it's in our possession, then we will take it to Urbana to have some specialized shelving and stuff put in for the rescue tools and all of our equipment so it's just not thrown in a compartment. I'm hoping that sometime toward the end of March 1 of April that truck will be in service."
"Update you on a couple of other grants that I'm working on. We are currently in the review phase for a safer grant to hire six additional full-time personnel that's 100% federally funded for three years. Also, we're we have submitted a grant for the replacement of our 1997 ladder truck. So hopefully, our grant writers have been very successful for a lot of departments in the area."
Chief Baer also reported that the police department has been busy the start of the year and numbers are up for the 2021 year compared to years past.
"Just like Chief Thompson said, and we're heading this year on all of our numbers, Also. We've answered 1316 calls as of this Tuesday,25 January, we've taken 250 written reports, so that's pretty busy. Obviously, looking at the numbers, we'll likely somewhere get up around 2000 for the month."
Because you know, we're always looking at drug use and the drugs, or drug abuse always when you see a large city population go up, you see your violent crimes go up, that always somehow comes back and correlates to the drug use and drug abuse. So I was a little bit shocked when the detectives were telling me I hadn't realized we'd been this busy, I thought their numbers were off a little bit. So we've done 11 search warrants. So far, in January, we've brought in 30 grams of meth, four grams of Fentanyl, and miscellaneous kinds of pills. Now, this is just the detectives, the road would be totally different numbers. We also had 177 grams of a suspected new drug that we're just seeing here.
The Chief did not speculate on the "New Drug" but could be Carfentanyl a more potent form of Fentanyl or Isotonitazene, also called "iso," a drug that has been recently moving around the country.
The Chief told Council that the new 85,000 machine they acquired from the state under a grant is helping to identify drugs that may have not been completely identified before.
"Now our ability to identify the drug is because the state was great enough to give us that new machine we're using. So we have that $85,000 machine that's able to test trace substances of all drugs. And because we have it, we're now identifying drugs at a different level. Meaning that in the past when we would do some of our tests might show that it was cocaine, or fentanyl, or something now we're really down to the trace elements, we can break the drug down. Where we thought it may be previously was one thing we may see it's a different thing. And because of that, I think we're now detailed."
The Chief said that they have had had 10 overdoses, and police only have used Narcan four times.
Baer said what is even more shocking is the increase in child sex crimes in the city.
"We continue to deal with, with so many people that are unable to get out of their own home, we continue to see our child sex crimes increase, and we continue to deal with those we are at ICAC agency, which is Internet Crimes Against Children agency. I would venture to say though, that I think that that is going to be the thing that we need to probably put even more resources into in the last two years in a row. We had more search warrants for child sex crimes than we had drug search warrants. And so I think that that is really something that there are several different reasons but COVID And people being locked in has made it worse, I think. So that's kind of just an overview of what we're dealing with."
The Chief said that currently, he is four officers down to be fully staffed and one dispatcher. He said that he just hired a young man for dispatching that has an interest in being more with the department.
"We just hired a new dispatcher whose dream his whole life has been to be in service of a police officer. He's not old enough yet, but he is old enough to be a dispatcher, he's climbing his way up through the process, we're really proud of him. So, you know, with us if we can get those four other officers that one dispatcher, which we're working pretty hard to do, but honestly, just like the fire department, it's hard to get a pull right now. We're really finding it difficult across the country to recruit police officers. We go to academies and high schools and wherever we can to try to get them. And I think we're competitive now, more so than we've ever been before. We have lateral transfers, and we have all kinds of things at our disposal. It's just it's twofold. Number one, it's hard to get the candidate's number two, many times they don't pass the background. But we're working hard to get it."
Fully staffed for Circleville Police is 26 sworn including the Chief and 7 dispatch. Both chiefs talked about the age of their staff and how it can be good.
"I don't have the experienced officers to do the day-to-day mentoring that we once had, because they are so young. But to their credit, they probably are better trained in many ways than older officers are because their techniques are modern, which just come through the academy. And, you know, there are some things like that what we're doing the academy itself is restructuring. There aren't many academy classes left. So most of the departments have gone together. They tried to bring outside sources and do different training. For instance, our new supervisors will be at Chillicothe, the police in February with the national public Training Council as giving a class down there on leadership. We'll send them down there to that because it's so hard to get these classes. We've done more virtual classes, but honestly, I really feel that I tried to pick those carefully."