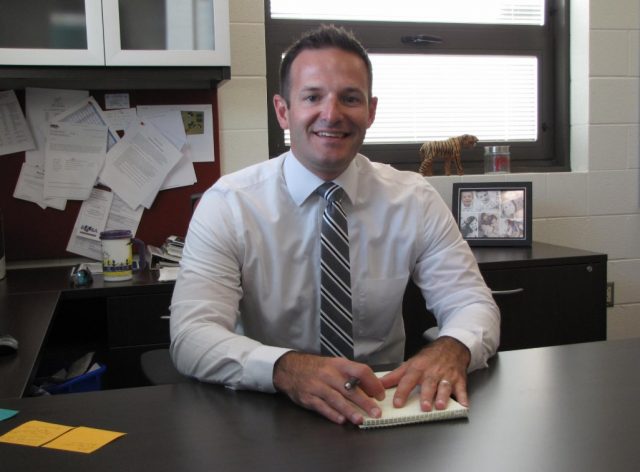 PICKAWAY – Pickaway-Ross during their December 17th school meeting announced the official hiring of Circleville Superintendent Jonathan Davis.
Davis named superintendent of Circleville City Schools in March of 2016, Mr. Davis has consistently implemented a comprehensive communications program to keep families, staff, and community members informed and engaged in the activities of their schools and the district. Since then Davis has empowered staff to use Twitter as a way to engage parents and collaborate, started a school blog to provide classroom updates, changed staff culture through implementing Focus3 trainings, and also established a communications department within his first year. Through these channels, Davis has used two-way, mutually beneficial communication as a medium to promote transparency, honesty, integrity, trust, and foster community engagement throughout our schools as a means to benefit kids at every step.
"While we are saddened to see Jonathan lave, our board will beginning an exhaustive and collaborative search in partnership with our community to place the next academic, culture-driver and superintendent of our district immediately," said Tony Reeser, board president, "We are incredibly thankful for Jonathan's leadership and the invaluable role he has played over the course of the last eleven years in Circleville ushering in a new era, and on a new campus for generations of Tigers. We wish him his wife Kristen and their two children Claire and Graham the best in their next journey, as Jonathan continues to work with some of our high school students at Pickaway-Ross Career and Technology Center in the years to come."
Davis will continue serving as Superintendent until the end of 2021 school year, Circleville Schools plans to hire a replacement by April of 2021 to get a head start on the 2021-22 school year.
"With any transition in leadership, we recognize there will be some uncertainty in terms of next steps, however, our Tiger Pride and transparency as a group remains strong as the board is committed to leaving no stone unturned in securing the next superintendent of Circleville City Schools."

Jonathan will assume his duties upon the retirement of Superintendent Dennis Franks in July.

The Pickaway-Ross Board of Education voted tonight to hire Jonathan Davis as superintendent of the Pickaway-Ross Joint Vocational School District.
Davis has served as superintendent of Circleville City Schools since 2016. Previously he was the district's assistant superintendent for three years and assistant principal at Circleville High School from 2011-2013. He started in education as a social studies teacher at Pickaway-Ross in 2004.
"We had many quality applicants and Mr. Davis was our unanimous choice," board Presi- dent Byron Lloyd said. "We are confident that his leadership skills will benefit Pickaway-Ross."
Davis said he is humbled by and grateful to the board for its faith and confidence and he looks forward to returning to Pickaway-Ross.
"The prospect of working with 10 school districts, in the area where I am from, to engage thousands of students, including adult learners, around career-based education, was an opportunity I could not pass up."
Davis will assume leadership of the career center Aug. 1, upon the July 31 retirement of Superintendent Dennis Franks.
"My focus now is to finish this school year strong for the amazing students and staff members at Circleville City Schools. I am fully aware of the big shoes I will have to fill in taking over for Dennis, who I've enjoyed working with the past five years."
Franks has worked at Pickaway-Ross for 32 years, serving as superintendent since 2010.