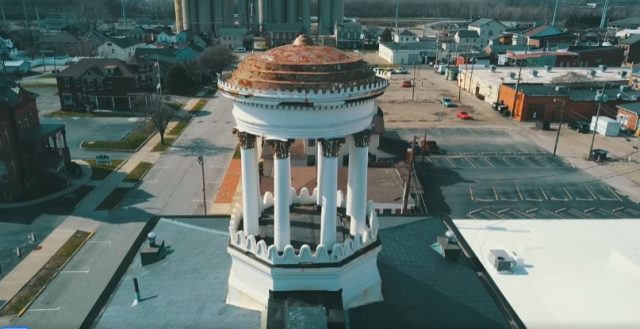 Circleville – Circleville Council has approved the restoration of the 150-year-old Copola or Belvedere on top of the Historical City Hall located at 127 South Court Street.
The structure that is currently in disrepair will be restored and kept historical. It once held a bell because the location was historically a fire station before it became city hall, it even housed horses. The bell is currently in great shape and is located in the City municipal building across the street.
During the City Council financial meeting on Tuesday, a cost of around 20,000 dollars was discussed on top of the 427,866.00 dollars to fix the Belvedere to make the bell operational.
In a press release the Durable Restoration company said that starting in late May 2023, the belvedere on top of Circleville's City Hall will get a facelift by The Durable Restoration Company. Most excitingly, the original bell will be back atop City Hall after several years of storing the bell in a separate
building. The bell will fit into a new stainless-steel A-frame in the building's belvedere. Durable Restoration will replace all existing columns in the belvedere with new fiberglass columns. They will then remove the current metal roof and replace it with a new one made of copper. Lastly, they will install a new scalloped copper trim on the base of the belvedere to match the new copper roof.
The project has been on the back burner for years with a slow degradation of the structure. Council says that the bell will be able to be rung during special occasions.