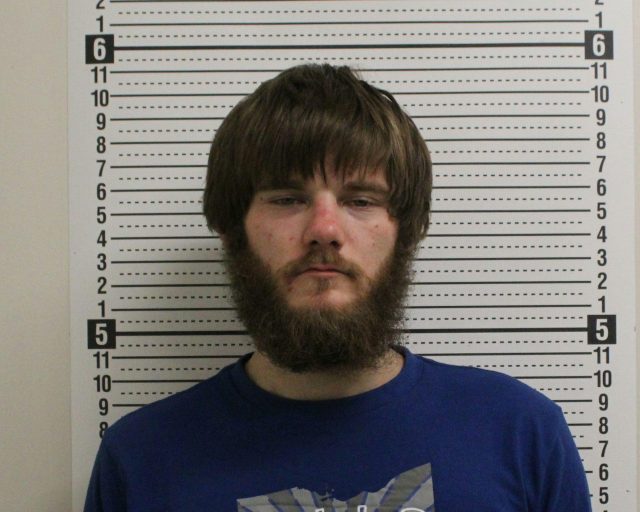 CHILLICOTHE -It was an all-out foot chase on Wednesday after a couple was caught stealing items from Walmart and ran from Police.
According to the Chillicothe police department, they were dispatched to Walmart on River Trace Ln at 5:44 on Wednesday for the report of a theft. When they arrived loss prevention pointed to two people running from Walmart and into the woods located southeast of the lot. Officers gave chase on foot. Descriptions of the two were a male wearing a blue shirt and camo pants along with a female wearing a red shirt, fleeing the scene.
In the report it states what happened:
I entered the woods and located a trail that I followed south, on foot. I then
observed a female wearing a red shirt, walking by her self, headed south. I began to run toward her while wearing a police uniform. While around 80 yards away from the female, later identified as Melissa Butterbaugh, I observed that she turned around and looked at me. She then turned back around and began running away from me. I pursued her and yelled for her to stop but she continued running. I caught up to her and within a short distance from her, Ms. Butterbaugh began to stop and turn toward me. I told her to get on the ground but at this point I was already face-to-face with her. I then took her to the ground and secured her in handcuffs. Once on the ground, she complied.
"I continued running south until I was close to the bank of the Scioto River next to the railroad track. I then observed the described male, later identified as Leland Sprouse. I continued toward the male, through the woods. Once closer to Mr. Sprouse he began running away from me. He made it to the river bank and I yelled for him to stop. Mr. Sprouse refused to stop and began running east along the bank. I pursued him and was able to cath up to him. Mr. Sprouse then stopped and was advised to get on
the ground. Mr. Sprouse refused and I removed my forearm from my holster. Due to Mr. Sprouse fleeing from law enforcement and not complying to verbal commands, I pointed my firearm toward Mr. Sprouse for my safety. I gave several commands for him to lay on his stomach but he refused. Mr. Sprouse did go to his knees, however. He was presenting his hands and I could see he did not have a weapon in them. I then holstered my weapon and escorted Mr. Sprouse to his stomach. Mr. Sprouse mostly complied once on his stomach, giving some passive resistance."
After detainment police found a pocket knife on Sprouse.
It was also discovered that Leland had a warrant for his arrest through the Ross County Sheriff's Department. Leland was placed under arrest for Obstructing official business, theft, and his warrant. Melissa was placed under arrest for obstructing official business. Leland and Melissa were transported to the RCJ without incident.
Melissa's mug shot was not available at time of posting.