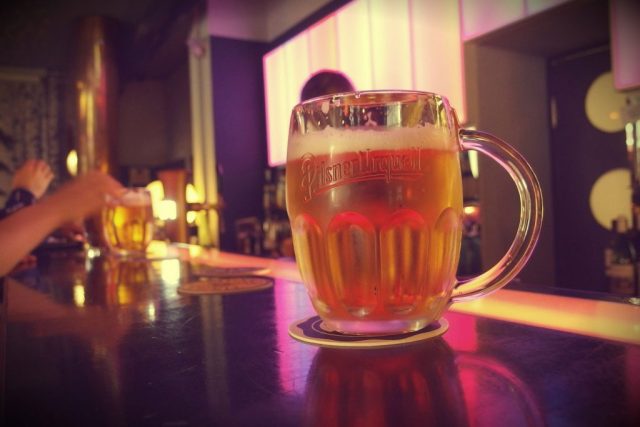 Chillicothe – Move over Feast of the flowering moon, and make way for a fun new event happening in the downtown area of Chillicothe.
With over 18 breweries signed up for the Downtown Chillicothe Paint street event. Along with music and fun, the vent will take place on June 3rd, 2023. Getting tickets will give you access to 16-5oz tastings, that's probably enough to get you started.
Then get entertained by music, and Lori Graves a local comedian who is hosting the event.
A list of sampling beers was posted by the Chilliochte Brewfest.
1. New Belgium Brewing*Voodoo Ranger Atomic Citrus packs a seriously refreshing citrus punch. This beer is brewed with blood orange and clocks in at 7%ABV.*Voodoo Ranger Juicy Haze – Packed with bright tropical aromas and brilliant citrusy flavors, this unfiltered IPA wraps up with a pleasantly smooth finish. 7.5%*Voodoo Ranger Juice Force – Juice Force IPA is a fruit forward, highly drinkable, 9.5% ABV blast. Buckle Up. With this hazy IPA, you'll be buzzing the tower in no time.*Fat Tire – Fat Tire blends a subtle malt presence with a slightly fruity hop profile and crisp finish, to create a bright and balanced beer that drinks easy, anywhere. 5.2% ABV
2. Classic Brands Chillicothe*Bud Zero is an alcohol-free brew with only 50 calories and zero grams of sugar. Each bottle of Budweiser Zero is consistently made with four premium ingredients:barley, rice, hops, and water. With 0% ABV, it delivers the refreshing taste of a classic Budweiser without the alcohol and the sugar.*Redbridge is a hearty, gluten-free, full-bodied lager brewed using only water, imported Hallertau and domestic Cascade hops, corn, sorghum and yeast giving it a well-balanced, moderately hopped taste.*White Claw Black Cherry seamlessly balances the tartness and sweetness of a ripe summer cherry. White Claw Mango, hard seltzer with a taste of fresh mango flavor. White Claw Watermelon, delight in the delicate taste of fresh watermelon. Enjoy pure refreshment with these sweet, gluten-free, summer fruit flavors year-round
3. TinCap*Blackberry—- Blackberry Hard Cider. Crisp hard cider with a smooth blackberry finish.*Monkey business——Monkey Business Hard Cider. A blend of Apple, Strawberry and Bananas that comes together in a great refreshing hard cider.*Peachy—— Peachy Hard Cider. Summertime hit. Refreshing and crisp peach hard cider*TinCap—-Our flagship hard cider that started it all. Crisp and refreshing apple hard cider.All hard ciders are gluten free and locally made. All hard ciders are 6.9% abv.
4. Brewery 33 Hocking Hills, LLC*Mingo Mango Gose Shandy – Our Gateway Gose with added mango juice for a refreshing sweet & tart drink. ABV 4.2%, IBU 8. *Ruble Red Rye IPA – Crimson red, tan head, light hop bitterness with grapefruit aroma. Malty richness and earthy rye flavors with a hoppy finish. ABV 7.3% IBU 62
5. Old Capitol Brewing*La Catrina – lime and jalapeno infused Mexican lager*Spandex – Tropical, citrus, pineapple IPA*OCB Light – refreshing and crisp light Amercian lager*Gaelic – malty, sweet, toasty Irish red ale
6. Land-Grant Brewing Company*Pool Party – Pilsner*Greenskeeper Session – IPA
7. Wolf's Ridge Brewing*614 Lager – Midwest Lager*Cinnamon Toast Brunch – Cream Ale with Coffee, Cinnamon, and Vanilla
8. Grove City Brewing Company*Hooyah, Lite American Lager – Hooyah is a clean crisp easy drinking America lite lager, brewed with high-quality malts and hops and finished with an America lager yeast.*Dark Secret, Black IPA – Dark Secret is a very malt forward Black IPA finished with Lager yeast and fermentation at Lager Temps. The combination of lite bitterness of the hops and sweet chocolate malts gives it a slightly dark chocolate flavor and aroma.
9. Loose Rail Brewing*Dead Man's Throttle – Our Flagship Hazy IPA is loaded with citrus notes from Citra and Amarillo Hops. Mango and Guava add the juicy flavor and feel to this mild bodied IPA 6.3% ABV 65 IBU*Searchlight Peach Shandy – Our Flagship Peach Shandy is brewed with Amarillo hops and blended with our peach lemonade. Golde in appearance with aromas of Peach. This mild bodied shandy finishes sweet and refreshing. 4.1% ABV 12 IBU*Ashcat Amber Ale – Dark Amber in appearance with aromas of caramel and spice. Williamette hops and caramel malts provide this mid bodied smooth finishing ale with the notes of butterscotch. 5.5% ABV 31.5 IBU
10. Nocterra Brewing Co. – No list yet but we're sure theyre going to bring some tasty brews!
11. Outerbelt Brewing*Gravel Donuts Hazy IPA 6.5% ABV – "Our best-selling beer – All of the hops, none of the bite! With Citra, Mosaic, El Dorado and Azacca hops… fruity, juicy and tropical, with a silky mouthfeel."*Glasstown Lager 5.2% ABV – "Cold aged to be light, crisp and crushable. 100% Pilsner malt."*Golf Cart Blood Orange Golden Ale 5.0% ABV – "Light bodied and naturally tart, with a crisp refreshing finish. Brewed with real fruit."*Kings To You Hefeweizen 5.8% ABV – "Traditional unfiltered German-style wheat beer. Hints of banana, clove and bubblegum from the unique yeast."*Camino Amberino Amber Beach Lager 4.2% ABV – "Light drinking dark lager, smooth with a clean finish. Mexican-style Amber Lager, with a hint of corn for sweetness and a delicate aroma."
12. Scotty's 22-Brew*Moon Doggie White Wheat Ale – "Light and refreshing. This beer will have you howling for more! Brewed with light and sweet orange peel, and coriander this is a 400-year old Belgian beer style that never grows old!"*King Daddy Cream Ale – "Crisp, and slightly Sweet, with a smooth, rounded feel. This ale, brewed with 6 Row Barley, Corn, and local 4-Finger Cascade Hops. is light and satisfying. Drink like a King. Who's yer Daddy!"*Double Squeezee-Squeeze India Pale Ale – "Juicy and Fruity! This fan-favorite, New England India Pale Ale, is a hop-forward delight with Citra and Mosaic hops leading the flavor rush. Give your buds a tasty treat – double squeezed for maximum fruitaliciousness. Cheers!"*The Hoppy Shakes Orange Milkshake India Pale Ale – "Yes… this is a beer. It's a hazy citrus adventure with a creamy smooth feel. The light carbonation, orange flavor, and smoothness has a beer-mimosa quality. Dry – hopped with Amarillo and local Chinook hop varieties."*Four- Finger Pale Ale (Cascade & Chinook Edition) – "Brewed with 4-Finger Cascade and Chinook hops grown just 5 miles from the brewery, this ale is a light and balanced delight! Come get some!"*22-Brufestbier Marzen – "Get a preview of the 2023 Oktoberfest lager handcrafted at Scotty's 22-Brew!"
13. Seventh Son Brewing*Humulus Nimbus – A pale golden ale that is both super crisp and super hop forward.*Kitty Paw Key Lime Guava – hard seltzer, refreshing hard seltzer that uses real fruit. *Bungalow – an Ipa hopped with southern hemisphere varieties: Galaxy, Nelson Sauvin and Moutere. Hazy and balanced.
14. Sixth Sense Brewing & Taproom*Murk Juice – 6.8% ABV Flagship Hazy IPA•Take A Hike – 4.2% ABV Granola Lager – Vienna Lager with a touch of sweetness from house made granola in the boil •Disco Hips – 9.1% ABV Imperial Hazy IPA •Spruce Lee – 7% ABV West Coast IPA brewed with locally foraged spruce tips
15. Crooked Can Ohio*3 rd Rail – Hazy Pale Ale 5.3%.Easy drinking. Citrus fruit hop flavor and aroma*Cloud Chaser- Hefeweizen 5.3% Banana and clove notes
16. Wild T Texas – Wild Ohio Brewing*Black Cherry – We combined the robust flavors of barrel-aged bourbon, luxe black cherries, and warm vanilla to deliver this award-winning brew. At 9% ABV, this boozy classic is sure to satisfy on its own. For an even bigger doozy, combine with a scoop of vanilla ice cream and a shot of bourbon for a Vanilla Bourbon Float. 9% ABV / 19g Total Carbohydrates / 13g Total Sugars*Strawberry Pineapple- Your tropical vacation is just one sip away with our Strawberry Pineapple Wild Tea. This 6.5% ABV brew is an easy-drinker on its own. Wanna take your tastebuds to paradise? Add triple sec, tequila, and a splash of lime for a Strawberry Pineapple Margarita.6.5% ABV / 13g Total Carbohydrates / 12g Total Sugar*Original – In the mood for classic? You can not go wrong with the honey lemon flavor of the original Hard Tea. 5% ABV / 12g Total Carbohydrates / 9g Total Sugars*Blueberry – Your taste buds are in for a flavor eruption with Wild Ohio Blueberry Wild Tea. We combined the flavor of juicy, succulent blueberries with small hints of lavender, and we instantly knew we did had ourselves a winner! At 6.5% ABV, Blueberry is a great, year-round drink that is popular among Wild Ohio fans. You can find our Blueberry Wild Tea in 12 oz and 16 oz cans at select retailers. 6.5% ABV / 13g Total Carbohydrates / 11g Total Sugars
17. Fifty West Brewing Company*Blackberry Tangerine Frostie IPA – 6.5% ABV – Introducing the next addition to the Frostie Series of IPA's, infused with the irresistible combination of Blackberry and Tangerine! These big-bodied IPAs boast bold fruit flavor combined with a touch of vanilla for an ice cream-like drinking experience. Get ready for a refreshing yet indulgent experience.*Cloud Spotting Blueberry Lemon Sour – 6.5% ABV – Artfully brewed with hundreds of pounds of juicy, sweet blueberries this sour was further enhanced by the invigorating burst of zesty lemon juice. Expect a well-balanced and summery sour beer that delivers a refreshing and harmonious flavor. *Tune Up Citrus Lager – 5.5% ABV – This lager was brewed with Pilsner and Vienna malts lending a light saltine cracker backbone with bready and honey-like highlights finished on lemon and lime zest along with lemon juice. This beer was designed to be an easy, crisp summer crusher with a refreshing citrus zippy finish.
You can get more info and tickets here: https://www.eventbrite.com/e/chillicothe-brewfest-tickets-567086058667?fbclid=IwAR3BS6XJCh8EoU2S9INibrTCKAv5YflYDLI8Ui4qvA8x1P8I-rdnOcmXAMM