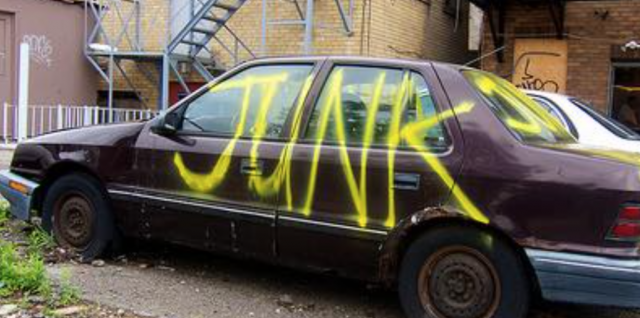 CHILLICOTHE – Chillicothe mayor has announced that they are aiming to clean up the city by enforcing a junk vehicle ordinance law that has been passed by Chillicothe Council.



According to the Ordinance a vehicle is considered a "Abandoned junk motor vehicle" if it has:
(a) Left on private property for more than seventy-two hours, on a public street or other property open to the public for purposes of vehicular travel or parking, or upon or within the right of way of any road or highway, for forty-eight hours or longer;
(b) Three years old, or older;
(c) Extensively damaged, such damage including but not limited to any of the following: a broken window or windshield; missing wheels, tires, motor or transmission; two or more flat tires.
Must meet all the following requirements
Per city ordinance section 359.05, the City of Chillicothe's Police Department will issue citations for junk vehicles.
The Chief of Police shall order any abandoned junk motor vehicle to be photographed by a law enforcement officer. The officer shall record the make of motor vehicle, the serial number when available, and shall also detail the damage or missing equipment.
After removing a violator the car will be disposed of and any monies that are made from the sale of the car will be deposited into the general fund of The City of Chillicothe.



The Chief of Police shall thereupon immediately dispose of the abandoned junk motor vehicle to a junk yard or scrap metal processing facility as defined in Section 359.01 or Ohio R.C. 4737.05 which is under contract to the City, or to any other facility owned by or under contract with the City for the disposal of such motor vehicles. The records and photograph relating to the abandoned junk motor vehicle shall be retained by the Police Department for a period of at least two years. The Police Department shall execute in quadruplicate an affidavit, as prescribed by the Registrar of Motor Vehicles, describing the motor vehicle and the manner in which it was disposed of, and that all requirements of this section have been complied with, and shall sign and file the same with the Clerk of Courts of Ross County. The Clerk of Courts shall retain the original of the affidavit for his files, shall furnish one copy thereof to the Registrar, one copy to the junk yard or other facility handling the disposal of the vehicle, and one copy to the Police Department, who shall file such copy with the records and photograph relating to the disposal. Any moneys arising from the disposal of an abandoned junk motor vehicle shall be deposited in the General Fund of the City.
Notwithstanding Section 359.03, any motor vehicle meeting the requirements of subsections (a), (b) and (c) hereof which has remained unclaimed by the owner or lien holder for a period of ten days or longer following the notification as provided in Section 359.03 may be disposed of as provided in this section.
(Ord. 90-88. Passed 7-11-88.)