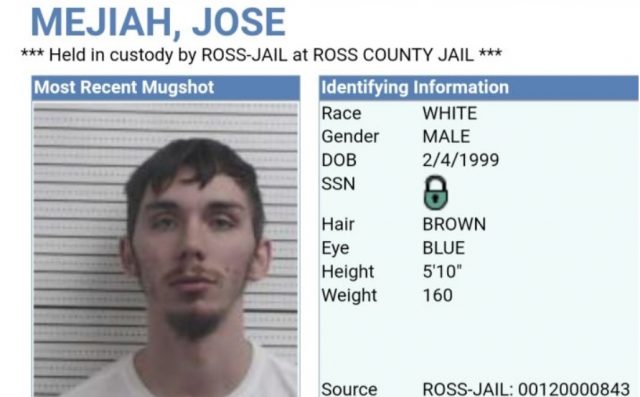 CHILLICOTHE – Just over two years ago officers responded to a disturbance when they arrived they encountered a man who would violently attack them.
On 2-18-2020 at 3:58 p.m., Chillicothe Police Officers were dispatched to 44 Cheyenne Drive in Chillicothe in reference to a reported disturbance. Officer Traevon Williams contacted Ronald Fisher, who in the course of the incident obstructed the officer's investigation and was placed in the rear of a cruiser while the investigation continued.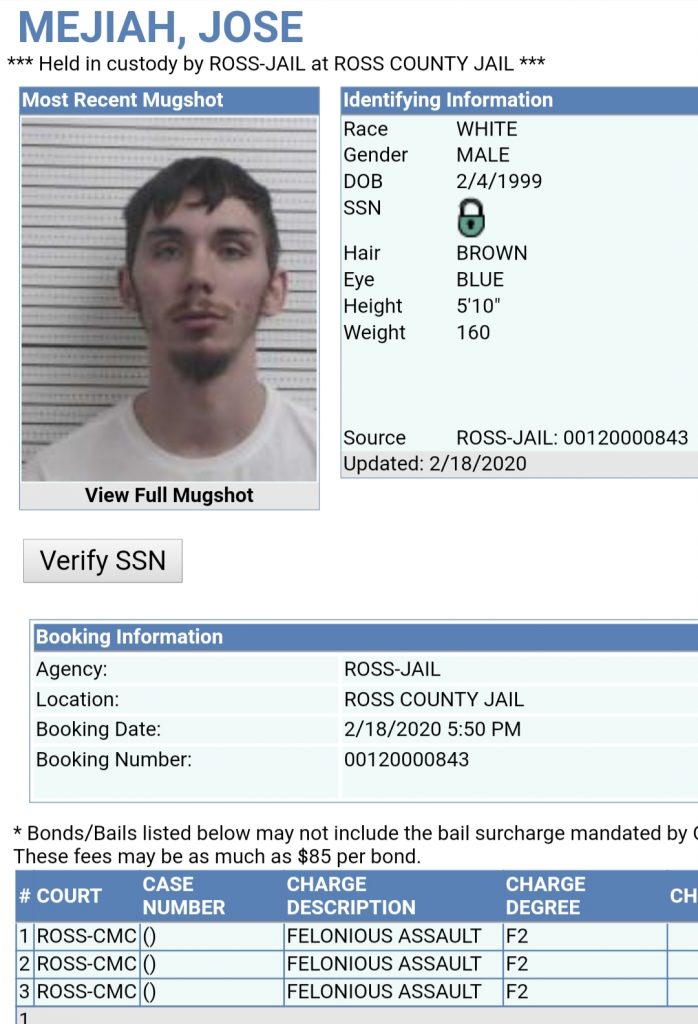 While speaking with a female occupant of the residence, another occupant, Jose Meija, became highly disruptive, shouting obscenities at the officers.
In the interest of safety, Mejia was asked several times to remove his hands from his pockets, yet refused to cooperate. As officers attempted to remove Mr. Meija's concealed hands from his pockets, the subject launched into the physical assault of the officers, striking the officers numerous times about their faces and heads.
As a result of the attack, Sergeant Jonathan Robinson was transported to a Columbus-area hospital for treatment of non-life-threatening injuries. Officer Monique Lee and Officer Traevon Williams were transported to Adena Regional Medical Center in Chillicothe, where they were both treated and released.

Jose Mejia was transported to the Ross. Co. Jail where he was charged with Felonious Assault on a Police Officer, Resisting Arrest, and Obstructing Official Business.
In June of 2020, Mejias filed a Not Guilty by Reason of Insanity plea, and Mejias would now be evaluated on the competence to stand trial. In November that evaluation came back, "BASED UPON AN EVALUATION REPORT, THE COURT FINDS THAT DUE TO DEFENDANT'S PRESENT MENTAL CONDITION, HE IS INCOMPETENT TO STAND TRIAL AT THIS TIME. IT IS THEREFORE ORDERED THAT DEFENDANT BE TRANSPORTED TO THE TWIN VALLEY BEHAVIORAL HEALTHCARE FOR COMPETENCY RESTORATION."
A year after the event, on March 15, 2021, Twin Valley reported to the courts, "BASED UPON THE REPORT FROM TWIN VALLEY, THE COURT FINDS THAT DEFENDANT IS INCOMPETENT AT THIS TIME. THEREFORE, IT IS THE ORDER OF THE COURT THAT DEFENDANT TO REMAIN AT TWIN VALLEY SO THAT HIS COMPETENCY CAN BE RESTORED."
This week Ross County filed that they wish to suspend the case, "THE COURT FINDS THE DEFENDANT IF NOT COMPETANT TO STAND TRIAL AND CANNOT BE RESTORED WITHIN THE TIME ALLOWED BY LAW."
A judgment came on March 23, 2022, "MOTION TO DISMISS IS GRANTED WITHOUT PREJUDICE FOR FURTHER PROCEEDINGS IN THE FRANKLIN COUNTY PROBATE COURT, CASE OVER."