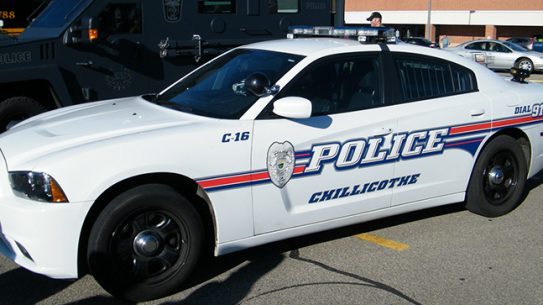 CHILLCOTHE – A man was arrested and charged with fleeing the scene of an accident and driving under the influence after police responded to a truck hitting a home in Chillicothe.
According to Chillicothe Police department, they were dispatched around 7:09 pm to the area of Safford ave and Cedar Street on the report that a pickup truck had hit a home located at 512 cedar street.
A witness said that they observed a black pick up truck drive across the front lawn of 511 cedar ran over Christmas lights/decor then struck a stop sign. Then the vehicle went into the yard of 512 where he drove through a carport, hit the home, through a fence, and struck a tree in the backyard of the home. The witness then said that the truck drove back and forth to get itself unstuck from the situation and took off.
Police caught up to the suspect on Buckeye street at a stop sign driving with heavy damage to the vehicle and a flat front tire. When the officer attempted to stop the suspect he refused to stop and drove down high street and then Church but because of the damage to the vehicle speeds of 25 mph were reached only.
Law enforcement was able to stop the suspect on Church street where police identified the man as Carl Hitchens who told police he didn't know why he was being arrested and shouted at officers to let him go.
Police observed that Hitchens had bloodshot eyes, and glassiness, his pupils were dilated. Emergency crews arrived on the scene to check him medically and he was cleared. Police then started sobriety tests on Hitches and where were refused. Hitchen was arrested for OVI, Failure to control, leaving the scene of an accident, and transported to Ross county jail.