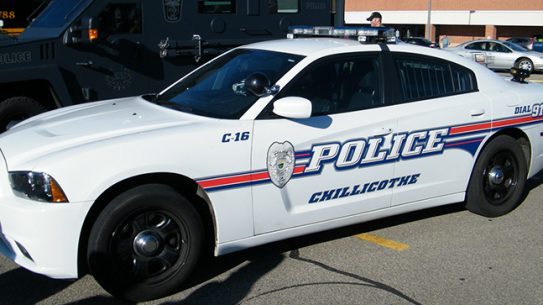 Chillicothe – A man who was belligerent with officers after being caught speeding recklessly down Douglas Street was arrested over the weekend
According to Chillicothe police, a detective was working in the area of Gilmore and Douglas around 2:51 am on 8/13/22 when he heard and saw a Motorcycle with a loud exhaust accelerating at a high rate of speed down Douglas street which is a marked 25 mph zone. When the detective started to follow the motorcycle he was able to catch up to the driver crossing the railroad tracks as Douglas and Washington. As soon as the motorcycle crossed the railroad tracks he sped up again that's when the marked patrol vehicle turned on his overhead lights and attempted to stop. The detective reported that while he followed the motorcycle he was driving at around 65 mph in a 25 mph zone.
The driver stopped in the area of Douglas and Eastern Ave. where the driver immediately got off his bike and approached the officer. The detective reported that he immediately smelled alcohol on the man and he was having issues standing while looking for his license. Police eventually found out that the driver Daniel Nerviano, was under suspension. An officer arrived on the scene and performed an OVI test in which Nerviano failed. When Nrviano was told he was under arrest he started being belligerent. In the the report it says, "Nerviano began moving
toward me in an aggressive manor and put his face near my face, in an intimidation attempt. I ordered him to move away from me and he did."
A second time he became aggressive with the officer was at the jail when jail guards asked him to remove his belt. When he took it off he threw it at the officer striking him in the head.
Nerviano was issued Traffic Citation #38560 for Speed, OVI, OVI Suspension and OVI Refusal. He is also being held, in lieu of bond for Assault. He was also served with his copy of the BMV2255. His initial appearance in court is set for August 15, 2022 at 9:00am.