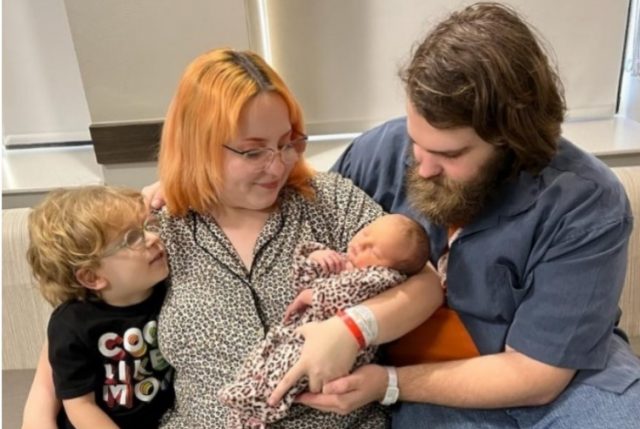 On the morning of January 2, 2023, parents Brittany Penrod and Richard Robinson welcomed in the New Year with the birth of their second child, Lola Dawn Robinson who was born at OhioHealth Berger Hospital.

Brittany gave birth to their daughter who weighed six pounds and 13 ounces at 2:13 a.m. This Chillicothe couple had a scheduled c-section for January 3, but baby Lola was ready to enter the world a little early! Lola is the second child making first born, Theo, 4, a proud big brother.

When asked what it meant to her to have the first Berger baby of the New Year, Brittany and Richard replied:

"It feels rad to have the first baby of the year at Berger! We did not plan for it, but we made jokes about it being a possibility. Who would have thought?"

The couple's baby was delivered by Carolyn Yost, DO. This was Brittany's first delivery at Berger Hospital.

"It was an amazing experience," said Brittany. "Berger has a wonderful team. We felt very supported by the staff from the beginning."

About OhioHealth 
Based in Columbus, Ohio, OhioHealth is a nationally recognized, not-for-profit, charitable, healthcare outreach of the United Methodist Church.  
   Serving its communities since 1891, it is a family of 35,000 associates, physicians and volunteers, and a network of 12 hospitals, 200+ ambulatory sites, hospice, home-health, medical equipment and other health services spanning a 47-county area.  It has been recognized by FORTUNE as one of the "100 Best Companies to Work For" 14 times since 2007. 
  
OhioHealth hospitals include OhioHealth Riverside Methodist Hospital, OhioHealth Grant Medical Center, OhioHealth Doctors Hospital, OhioHealth Grady Memorial Hospital, OhioHealth Dublin Methodist Hospital, OhioHealth Hardin Memorial Hospital, OhioHealth Marion General Hospital, OhioHealth O'Bleness Hospital, OhioHealth Mansfield Hospital, OhioHealth Shelby Hospital, OhioHealth Grove City
Methodist Hospital and OhioHealth Berger Hospital. For more information, please visit our website at www.ohiohealth.com.