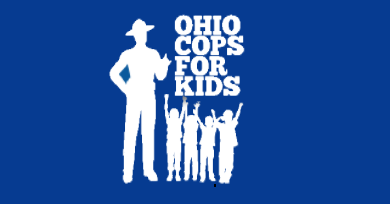 CLEVELAND — Ohio Attorney General Mike DeWine today announced a lawsuit against a purported children's charity, its operators, and its fundraiser for allegedly defrauding Ohio donors and misleading them about how their money would be spent.
According to the lawsuit, Cops for Kids Inc. (also known as Ohio Cops for Kids) collected over $4.2 million in donations from Ohio residents between 2005 and 2015 but spent less than two percent of it on charitable programming, instead paying the vast majority — over $3.34 million — to its for-profit solicitor, Telcom Enterprises, and an additional $802,662 on salaries and overhead.
"Well-meaning Ohioans gave to Cops for Kids believing their dollars would help Ohio children or support local law enforcement. Instead, an overwhelming percentage of donations were kept by the group's for-profit fundraiser or the men who operated it," Attorney General DeWine said. "We believe Cops for Kids is a sham operation that has defrauded Ohioans out of millions of dollars while performing almost no legitimate charitable work."
Incorporated in 2004, Cops for Kids claims its mission is to improve the quality of life for Ohio youth through educational and recreational activities, working hand-in-hand with law enforcement. It has solicited donations from residents in every Ohio county, collecting hundreds of thousands of dollars a year through Telcom Enterprises, a professional solicitor paid to collect donations.
Although Cops for Kids claims to provide significant programming in 75 of Ohio's 88 counties, investigators found that the group's limited charitable programming primarily involved sending boxes of a few teddy bears to police departments, writing checks to other agencies, and funding some $500 college scholarships issued by other organizations.
Between 2005 and 2015, when Cops for Kids collected over $4.2 million in donations, it spent only $73,840 (or 1.75 percent) on charitable programming, according to investigators in the Ohio Attorney General's Charitable Law Section.
The Attorney General's lawsuit accuses Cops for Kids, its organizers — Thomas Duffy and Charles Hitzel (both of Ashtabula) — and Telcom Enterprises of defrauding Ohio donors and misleading them into thinking their contributions would be going to a legitimate charity and used primarily for charitable purposes.
In the lawsuit, the Attorney General seeks a permanent injunction prohibiting the defendants from soliciting for charity in Ohio and prohibiting Duffy and Hitzel from incorporating or working for a nonprofit in Ohio. The Attorney General also seeks an order to dissolve Cops for Kids and distribute its assets to other charities and an order for Telcom to withdraw from all solicitations in Ohio. The lawsuit also seeks restitution, damages, and civil penalties.
"There are plenty of children's and law enforcement groups that could use support, so to run this kind of scheme is shameful," Attorney General DeWine said. "We know that Ohioans are generous, and many will make charitable contributions, especially this time of year, but they deserve to know how and where their hard-earned dollars will be used."
Attorney General DeWine offered the following charitable giving tips this holiday season:
Develop a giving plan. Determine in advance which charities you want to support. Respond to unexpected or unwanted requests by explaining that you already have a giving plan in place or that you need written information to evaluate a request.
Research charities. Find out if an organization is registered with the Ohio Attorney General's Office, verify its tax-exempt status with the IRS's Exempt Organizations Select Check, and gather data from organizations such as the Better Business Bureau Wise Giving Alliance, Charity Watch, and Charity Navigator. View the organization's IRS Form 990 on Guidestar. Review program descriptions, expenses, compensation levels, and other details. Conduct a basic internet search to review a group's accomplishments or questionable activity.
Ask how your donation will be used. Keep in mind that some charitable giving requests come from professional solicitors who are paid to collect donations. By law, solicitors must identify themselves, and if you ask, they must tell you what percentage of your donation will go to the charity. (It may be only a small percentage.) Contact charities directly to find out how they use donations. Get information in writing. Compare a charity's materials with information you gather from other sources.
Watch for red flags. Be wary of high-pressure tactics, requests for checks made out to an individual (instead of a charity), charities with only a few people on their board, and people who are unable or unwilling to answer questions about their organization. Don't provide your credit card number or other personal information to callers who contact you unexpectedly.
The Ohio Attorney General's Charitable Law Section investigates suspected violations of the state's charitable laws and pursues enforcement actions to protect Ohio donors. Those who suspect a charity scam or questionable fundraising activities should contact the Ohio Attorney General's Office at www.OhioAttorneyGeneral.gov or 800-282-0515.