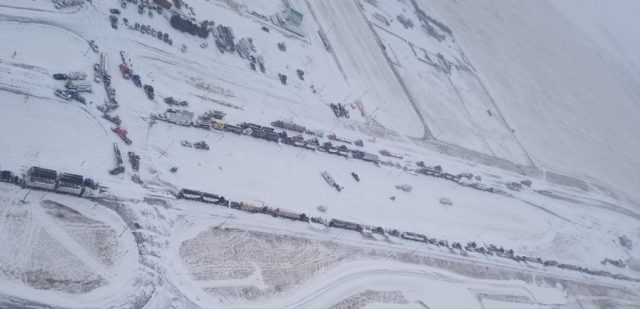 ALBERTA – Royal Canadian Mounted Police officers have begun an enforcement action targeting a blockade of commercial trucks and other vehicles at the U.S.-Canada border in Coutts, Alberta, that have been protesting COVID-19 mandates for the past week.
"What may have begun as a peaceful assembly quickly turned into an unlawful blockade. While the Alberta RCMP has been in a position to conduct enforcement, we have been engaged with protesters at the Coutts border crossing in an effort to find a peaceful and safe resolution for all involved," said The Canadian mounted Police.
The blockade has stopped all trucking from using the border and police have failed to clear it, to compound the issue now blockades have popped up on nearby roads.
"We thought we had a path to resolution, the protesters eventually chose not to comply. As of this morning, further action is being taken by the Alberta RCMP as this blockade continues to impede the ability for emergency agencies to provide full services to area residents. It has also negatively impacted the flow of goods and services, and impedes the public's freedom of movement."
Several truckers who want to travel and do their jobs have gone on social media to protest the inability to do their jobs. To report that they are low on food and some people have medical issues and they cannot move freely.
"Please help us out. There are a lot of drivers sitting here. They don't have anything to eat," a driver says in the twitter video below.
Reece Evans, the general manager of Alberta-based Evans Trucking who has openly reported that they are part of the convoy and has several trucks in it, reported online, ""I don't want to see anybody hurt, but unfortunately, there's a cost of war, and, you know, we're fighting for freedom right now," he said from the blockade. "So at this point, there's going to be some inconvenience, there's going to be some costs."
Alberta RCMP would like to advise that commercial vehicles should contact Canada Border Services Agency for further information regarding border crossings.
This isn't the only crossing to be affected, reports of blockades in Ottawa Canadas capital