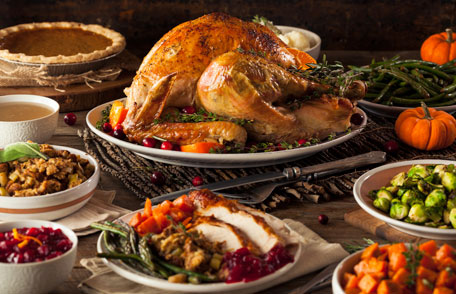 In 1997, 23-year-old Brian Wollenberg from Canal Winchester had a vision of providing Thanksgiving meals to needy families in his community. That year, he and a co-worker assembled and delivered 50 Thanksgiving dinners to Franklin County families.
Since its humble beginnings more than 20 years ago, the Byron Saunders Foundation has expanded to seven central Ohio county chapters. In that time, volunteers have provided tens of thousands of Thanksgiving meals to families all across Ohio – 4,500 meals in 2019 alone!
This year, the Pickaway County chapter of the Byron Saunders Foundation was formed. Our team is working to do our part to make sure every Pickaway County family in need can enjoy a Thanksgiving meal. Since we can't hold food drives to collect the food for those meals, we're working to raise money to provide Aldi or Kroger gift cards to families so they can purchase their Thanksgiving dinner.
On average, it costs $30 to provide a family of four a Thanksgiving dinner with all the trimmings. The Pickaway County Byron Saunders Foundation chapter's first-year goal is to raise enough money to provide 25 families with meals. We're well on our way to passing that goal thanks to the support of organizations like the Circleville Key Club, who has collected 20 gift cards and identified 13 families we can help. But there's more work to be done.
There are a few ways the Pickaway County residents and businesses can support the Byron Saunders Foundation cause.
First, please considering donating. We've made the process easy. Simply go to www.byronsaundersfoundation.org/pickaway, click the donate button and give whatever they feel they can. Since we are a 501c3 organization, all donations are tax-deductible.
Second, nominate a family that's struggling this holiday season. That can also be done at our website and all nominations are confidential.
Finally, volunteer. We're always looking for people to help us meet the growing need in Pickaway County. If you're interested in joining, please visit our website.
With the challenges that the pandemic has given us, it's certainly been a tough year. If there's ever been a time to come together and help one another…it's now.
Thank you and have a very Happy Thanksgiving!