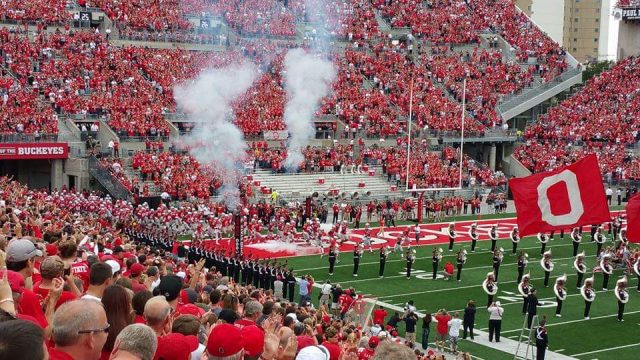 Buckeye Football Recap– The talk of the Buckeye game against Wisconsin was Chase Young. The young man is a monster and his presence was felt in the backfield all game. He recorded 6 tackles, 5 tackles for loss, 4 sacks and 2 forced fumbles. Young has been named Walter Camp Defensive Player of the Week.
Now, we switch up the conversation a bit and talk about one of the other stars of the game, J.K. Dobbins. Dobbins also had a steller game in route to 2 rushing touchdowns. He recorded 20 carries for 163 yards and an 8.2 yards per carry  average. He added 3 receptions for 58 yards and converted crucial 3rd down plays.
Last but not least, we have to mention the quarterback, Justin Fields. Fields was 12/22 with 167 yards through the air and 2 passing touchdowns. He also added 13 rushes for 28 yards and a touchdown.
Honorable mentions- Chris Olave caught 7 passes for 73 yards and 2 touchdowns. Master Teague had 13 rushing attempts for 76 yards. A shout out to Damon Arnette for playing with a cast on his hand and still making defensive plays.
THE Ohio State Buckeyes routed the Wisconsin Badgers 38 to 7 by keeping the Badgers star running back, Johnathan Taylor in check for a total of 52 yards rushing.
It's on to the next for Ohio State but they have a week off before facing Maryland in the Shoe on 11/9/2019 and kickoff time has yet to be announced.