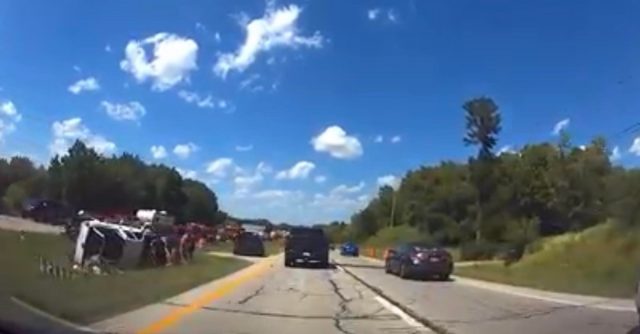 PICKAWAY – A crash has occured on US-23 Southbound in the area of River Road (Pickaway Airport) around 2:45 pm
Accoridng to early reports one vehicle has rolled over and there are injuries on the scene. Pickaway Township is on the scene now and has requested a helicopter to the scene. Several units have been requested for mutual aid.
Update from Pickaway Township Fire:
At 14:49 today we were dispatched to the area of US 23 at Interstate Battery on a motor vehicle accident. On our arrival the first arriving crew found two vehicles with heavy damage, and possible entrapment. Command was established and additional units were requested. The initially reported trapped victim was able to self extricate. One of the victims was transported to Columbus via air transport with serious injuries in critical condition. We would like thank all of our mutual crews who assisted on the scene. Before assumptions are made, this crash was not caused by speed or distracted driving. Pickaway Twp Fire – E201, M201, M203Union Twp Fire (Ross) – M1116Circleville Fire – R1, M1Medflight Pickaway County Sheriffs OfficeOhio State Highway Patrol
The two vehicles involved were a Chevy Equinox and a Dodge 2500
According to sources, a Med care ambulance was called in the crash, it has not been verified.
.