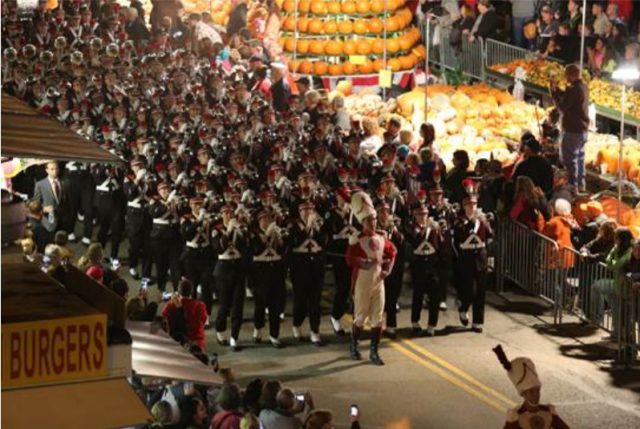 The pandemic may have forced the cancellation of Circleville's famed Pumpkin Show in 2020, but the four-day festival is back this year with a scarlet and gray glow thanks to the generosity of one local family.
Gary and Connie Sharpe, owners of Circleville-based Health Care Logistics®, are excited to announce their sponsorship of The Ohio State University Marching Band, which will close the Parade of Bands beginning at 8 p.m. Thursday, Oct. 21. The Sharpes previously sponsored the band's Pumpkin Show appearances in 2014 and 2010, when an estimated 100,000 people filled the parade route.
"Connie and I are both graduates of The Ohio State University," Gary said, "and we are fortunate to bring back The Best Damn Band in the Land to the Circleville Pumpkin Show so that many people can experience a live performance by the OSU Marching Band."
Health Care Logistics, founded in 1978 in the Sharpe family garage, now includes five business and manufacturing offices in central Ohio, 350+ employees and serves customers around the globe.
Learn more about the 2021 return of the Circleville Pumpkin Show and see what makes this fall festival "TheGreatest Free Show on Earth" at www.pumpkinshow.com