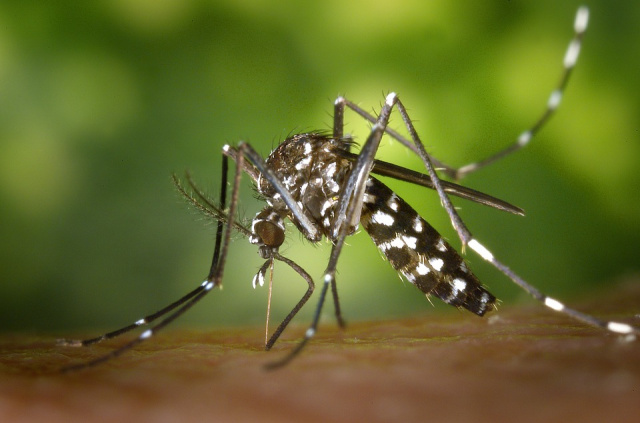 - Advertisement -
The Pickaway County General Health District (PCGHD) has been conducting mosquito surveillance and control activities in Pickaway County under the Ohio EPA's Mosquito Control Grant during the summer of 2017.
Next Article: How to Protect Your Family from West Nile Virus
Mosquito Surveillance activities include mosquito trapping, dipping for larvae in stagnant water sources, and response to mosquito complaints involving tall grass, tall weeds, stagnant water locations, and scrap tire / solid waste complaints. Mosquitoes that are
trapped during surveillance are sent to Ohio Department of Health to be identified and tested for West Nile Virus.
- Advertisement -
Through our 2017 mosquito surveillance activities, we have observed an increased number of West Nile Virus positive mosquitoes compared to the 2016 surveillance season. PCGHD advises that residents take extra precaution to help control mosquitos and protect themselves from mosquitos that can spread diseases such as West Nile Virus or other
mosquito borne diseases.
On August 15, 2017 PCGHD received our third report of additional positive pools of mosquitoes that tested positive for West Nile Virus located near Lockbourne Lodge Manufactured Home Community and Lockbourne Eastern Road located in Harrison / Madison Township and for a trap site located on Lincoln Avenue in the City of Circleville. PCGHD staff are conducting additional surveillance activities in these areas which include additional trapping of mosquitoes, public outreach, and mosquito control activities to help eliminate potential breeding sites of mosquitoes and harborage of mosquitoes.
As a control measure, health district staff are applying larvicide in areas near the positive WNV trap sites where stagnant water sources are observed (storm water ponding, poorly drained ditches, storm water catch basins, and at nuisance properties). Please review the report on page 2 with locations / trap sites that have been found to have mosquitoes that tested positive for West Nile Virus.
- Advertisement -
West Nile Virus typically occurs in the summer months between June and September and can be spread to humans through a bite from an infected mosquito. According to the Centers for Disease Control, most people (70-80%) that are exposed to West Nile Virus do not show signs or symptoms of the disease, about 1 in 5 people who are infected will
develop fever with other symptoms such as headache, joint pains, rash, or vomiting / diarrhea and less than 1% of people who are infected will develop serious conditions such as encephalitis or meningitis.
We are asking that local residents report standing water or stagnant water, tall grass or tall weed nuisances, scrap tire nuisances, solid waste nuisances or other conditions that can provide harborage for mosquitos in the area so PCGHD staff can complete additional surveillance, promote mosquito source reduction, and apply of larvicide in the area to help
reduce mosquito problems.
The above information was copied verbatim from the PCGHD Update, and was formatted for our readers.

---
- Advertisement -
As per the Pickaway County General District, ten pools have tested positive for West Nile Virus. 40 pools were tested in regards to the virus, which resulted in trapping 4380 mosquitoes. 14 of which tested positive for the virus.
A map of the locations is available by clicking this link.
Some locations that tested positive for West Nile are as follows:
Deercreek State Park Near Boat Ramps – 22695 State Rte 207, New Holland.
House Located in Atlanta – 25000 Block of State Rte 207, New Holland.
Abandoned Building – 26000 Block of Locust Grove Rd, New Holland
Lincoln Drive, Circleville.
10900 Block of Lockbourne Eastern Rd, Ashville.
10600 Block Ashville Pike, Lockbourne.
- Advertisement -