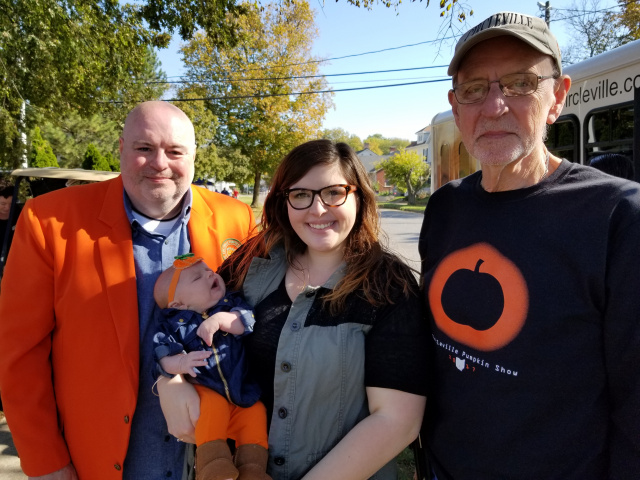 The Pumpkin Show baby parade became a Febes family affair Wednesday with four generations participating in the afternoon parade.
Rob Febes, Show trustee and long-time driver of the Queen float, was joined this year by his daughter, Chloe Febes, and 2-month-old granddaughter, Rylynn Arnold, who participated in the annual baby contest.
His father, Bob Febes, also joined in the festivities, riding on the float for Wyngate Senior Living, which he helped to build and decorate.
"All the stars just aligned this year, and we were all able to be here together," Rob Febes said. "That makes me very happy."
Rob, 49, has been the trustee in charge of the Little Miss pageant for the past 15 years and is now in his second year as co-chair of the Queen contest.
Chloe, 20, participated as a first-grader in the Little Miss pageant, and she has held royalty titles in other festivals throughout the area.
It was the first Pumpkin Show parade for Bob, 75.
Baby Rylynn also made her debut on Wednesday, but with her family ties, she obviously has a long Pumpkin Show future ahead.