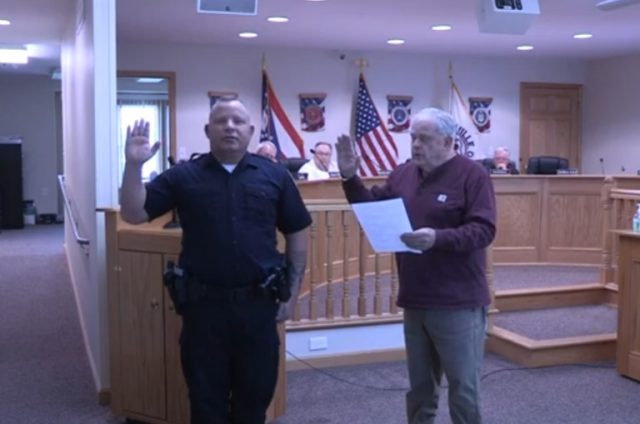 Ashville – A local man has gone from farmer to soldier, to now officer working from a part-time officer at South Bloomfield to Ashville.
Willie Marcum III (Will). grew up on the family farm in the Orient area. He always had dreams of serving in the U.S. Marines like his dad, but at first, he struggled to graduate from his home high School Westfall. Marcum said for the first 10 years of his adult life he filled his time with various jobs around the area until he decided that he need to buckle down and got his High School diploma, shortly after graduating officially at 29 he enlisted in the Marine Corps to fulfill a dream, but before they would allow him to enlist and because he was, "an older man" he had to prove himself to be fit enough to enlist. In 2006 he joined the Marines and served his country on a tour in Iraq, and eventually was medically discharged in the latter part of 2012.
When he came back to Pickaway County he found employment with the Pickaway County Engineer Highway Department for over ten years. Then decide to reinvent himself again, and started the SOPTI police academy in 2015, while he was 39 years old.
Officer Marcum told Sciotopost that he continued to work at the garage and support his family while going through school.
He graduated in January 2016 and began his law enforcement career part-time with the South Bloomfield Police Department where he served citizens for almost 7 years.
On March 30th, 2023 Ashville Swore in Officer Marcum to a full-time career in law enforcement with the Ashville Police Department.
"I have a beautiful wife Dixie, and four great kids. I live in Pickaway County where I have lived a majority of my life, minus the years while enlisted."